When choosing the best car for students, there are many features that you need to take into consideration like affordable prices, easy driving experience, or attractive design. And here are some of the car models that will offer you those things.
In recent years, the demand for cars of Filipino students has increased significantly. Many students have to live far from their campus, so owning a car will come in handy. Some of them might also need cars for internships, off-campus jobs, or doing volunteer work. 
However, choosing the right car seems to be a big challenge. Therefore, in this article, we will introduce the top 5 best cars for students in the Philippines that you shouldn't miss when considering buying a new car. Now, let's go!
Top 5 Best Cars For Students in the Philippines
Kia Rio - A great subcompact car for city journeys
Price range: P600,000-P900,000
If you are finding a compact car at a reasonable price to have great city trips, then the Kia Rio will be a suitable option for you. This is one of the best compact cars that are sought after by Filipino international students. 
Kia Rio is released in both sedan and hatchback models. It comes with great features, strong design, and even a large touchscreen that only high-end vehicles have. 
Besides, Kia Rio offers a quiet ride as it is solely motivated by a four-cylinder engine and an automatic transmission. This feature ensures your comfort during a long journey.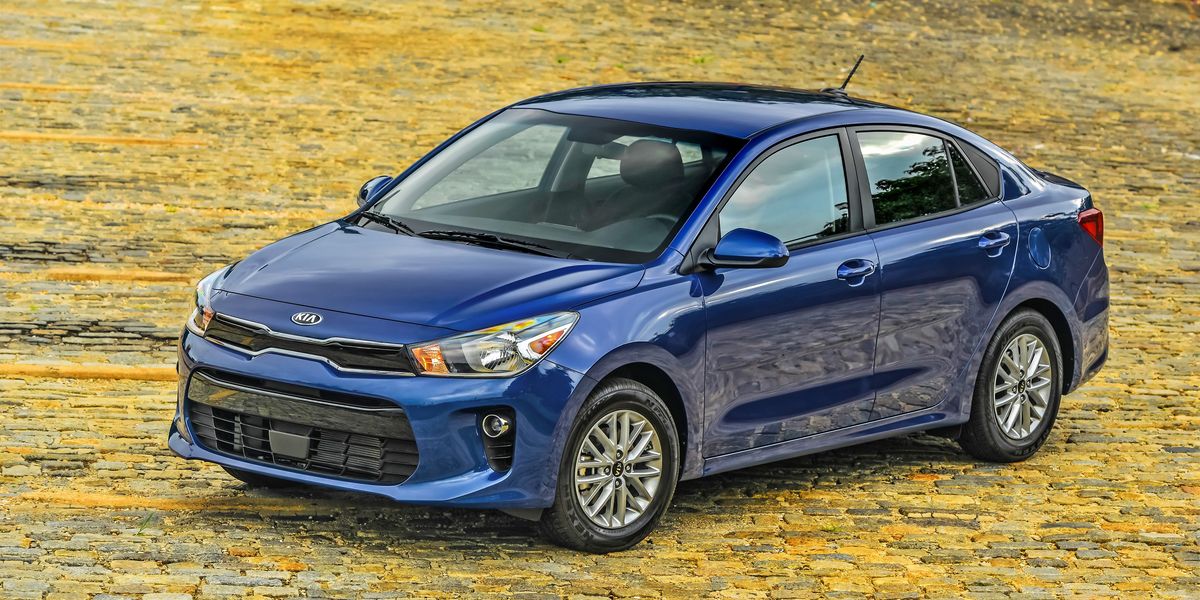 Kia Rio - A great subcompact car for city journeys
Other than that, Kia Rio also has a very impressive interior gadget. Steering-wheel audio controls will allow you to easily manage your audio system without moving your hands away from the wheel. Besides, this car's rear seatbacks are foldable so that you can turn it into a place for luggage anytime. Anyway, whatever your needs are, this subcompact car will surely satisfy you!
>>> Related posts: More KIA car reviews
Honda Civic - Put safety on priority
Price range: P1000,000-P1,500,000
Honda Civic is the next car model that we would highly recommend for students because of its safe driving feature. This car will also make you enjoy piloting as it offers a smooth ride and athletic driving experience with responsive steering.
More importantly, Honda Civic comes with advanced driver-assistance systems, including forward-collision warning, automatic high-beams, and automated emergency braking. Thanks to these features, you will feel safer when driving in the dark or dangerous space.
Honda Civic - A fuel-efficient car for Filipino students
Another plus of the Civic is that it is quite fuel-efficient when consuming less fuel than the base 2.0-liter in other brands. Therefore, no need to worry too much about the monthly gas bill! That's great, right?
Honda Brio - An upgrade in engine power
Price range: P585,000 - P727,000
This is another model of Honda brand listed in the top 5 best cars for Philippine students. The launch of Honda Brio marks the entry of Honda into the subcompact hatchback car line. It is considered as a lightweight and easy-to-drive car since it only weighs under 1,000 kilos.
Although the Honda Brio is relatively small, it packs quite a punch with a 1.3L SOHC i-VTEC engine that puts up to 127Nm of torque and 100hp of power. Ideally, you can indulge in your passion for speed with this car.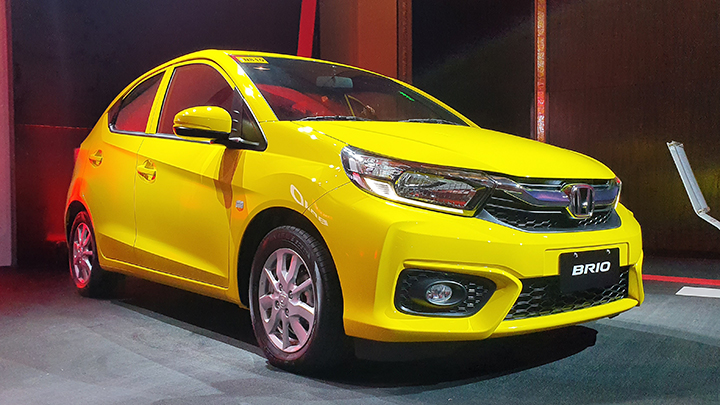 Honda Brio - An upgrade in engine power
Moreover, compared to the previous version, the length of the Brio is significantly increased. It creates more space for interior legroom and the cargo (about 258 liters). This upgrade allows you to load more items when needed, and your journey will be more joyful with a great music system played out of four high-quality speakers.
>>> You might want to read: Honda Brio Amaze 2018 Review: Low-cost mini sedan inspired by the Civic and Accord
Toyota Vios - A compact car with outstanding entertainment system
Price range: P650,000 - P1,100,000
Along with Kia Rio, Toyota Vios is also one of the best-selling compact cars in the Philippines. With an affordable price and comfortable interior space, this car easily wins the hearts of buyers. 
In terms of entertainment equipment, Toyota Vios comes with a 7-inch touchscreen that displays extremely crisp colors. In particular, this car features a 6-speaker system's output, which is desirable for such a subcompact car. 
Thanks to this advanced music system, you can feel free to enjoy music at a really loud volume.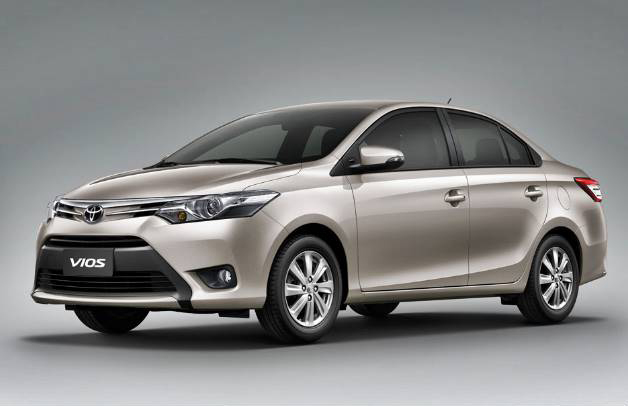 Toyota Vios is also one of the best-selling compact cars in the Philippines
Besides, Toyota Vios also features a remote trunk opener, rear sensors, and parking camera that supports you a lot in driving. Like Honda Civic, the Vios is equipped with an excellent safety system. 
It comes with seven airbags, five 3-point seatbelts, a stability control, and reliable brake assist. All of these make the car an excellent model in terms of safety and get a 5-star rating in ASEAN NCAP.
Honda Fit - An easy-to-drive car for a newbie
Price range: P800,000 - P1,000,000
Honda Fit is no longer a strange name for car lovers in our market. It is especially an excellent car for newbie drivers because it is much easier to control than other versions of Honda. Featuring a firm ride and light steering makes this car more friendly for young and inexperienced drivers.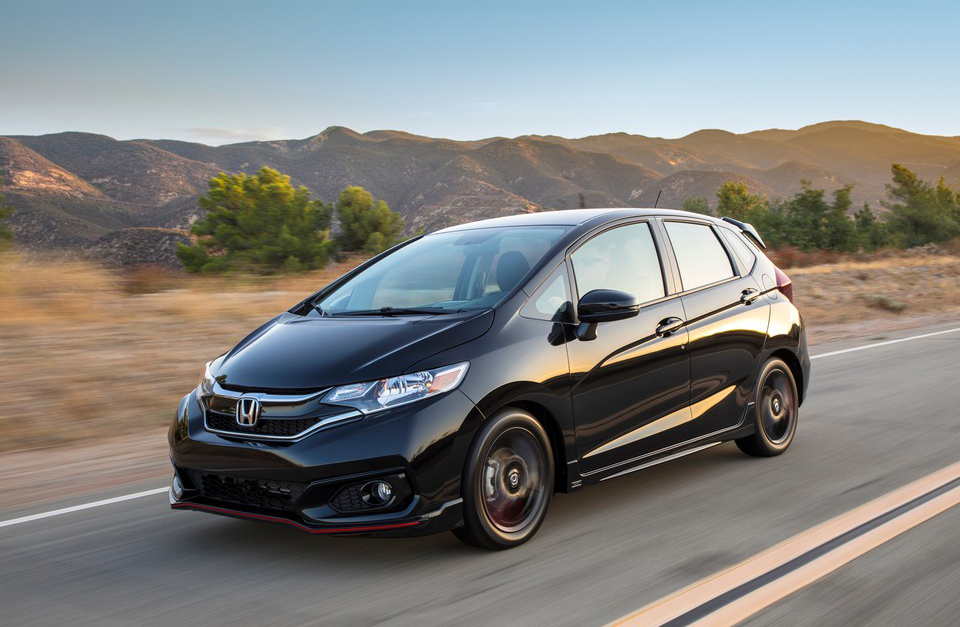 Honda Fit - An easy-to-drive car for a newbie
Most importantly, Honda Fit offers good fuel economy, and dreamy cargo space to keep many items inside. Although this version of Honda does not come with a flashy-looking, it has outstanding features like other advanced models.
The cabin of Honda Fit is designed with foldable seats and spacious legroom. Therefore, you will always feel comfortable in all positions, and no need to worry that your legs are aching.
However, if you are a relatively tall driver, an upright driving position can make you tough your head, but it is acceptable for such a hatchback with a competitive price, isn't it?
Conclusion
In short, each car has its own advantage, and you must be wise to decide which one is most suitable for you. Knowing exactly what you are looking for will help you make a choice easier.
If you are finding an affordable car that offers you an excellent safety system, just pick Honda Civic. However, if you need a better level of entertainment, the Toyota Vios will be the best option. Anyway, it is up to you. We do hope that with our suggestions on the top 5 best cars for students Philippines, you now find yours and don't hesitate to share it with us!