We all know about Jeepneys as a form of daily public transportation in the Philippines. But let's take a look at the program a little further.
Coming to this post, do you know what Jeepney Modernization Program is, how can it be beneficial or harmful to others? These questions will be answered to you through this article about Jeepney modernization advantages and disadvantages.
What is the Jeepney Modernization Program?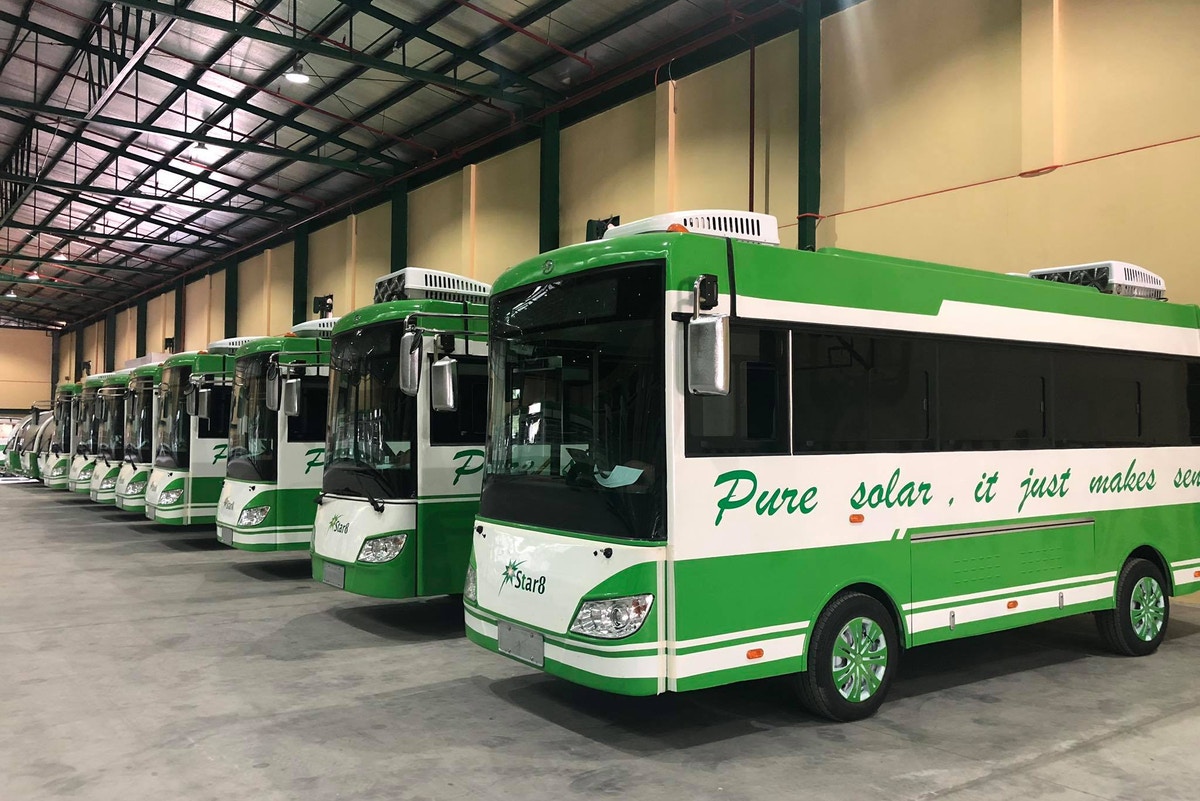 Some electrical Jeepneys
This is an act of the government to renew jeepneys on the street and clear the disqualified ones, and also prevent pollution to the street. This project was launched in 2015 by the Land Transportation Franchising and Regulatory Board (LTFRB).
In Jeepney Modernization Program (JMP), all Jeepney driver can not extend their Certificate of Public Convenience (CPC), own an extra vehicle, or change their vehicle if it is over-age. The program regulates that only vehicles of under 15 years old can be used (including regulated jeepneys, buses, and other public vehicles).
Regarding the new franchising system, jeepney modernization law, it is fully controlled by the government since they are the ones to decide on the route of Jeepneys. Due to JMP, it is ineligible for single-unit operators to perform a franchise, moreover, the minimum number of jeepneys for franchising, which previously was 20, was raised to 40 in the year 2019. To remove the wage gap, the incomes of Jeepney drivers are standardized.
A set of guidelines was made by the government (Department of Transportation's Omnibus Guidelines to be precise) for all vehicles to be approved to operate, or in other words, modernized jeepney. That included the national standards and international vehicle safety conventions about safety, comfort, and environmental soundness.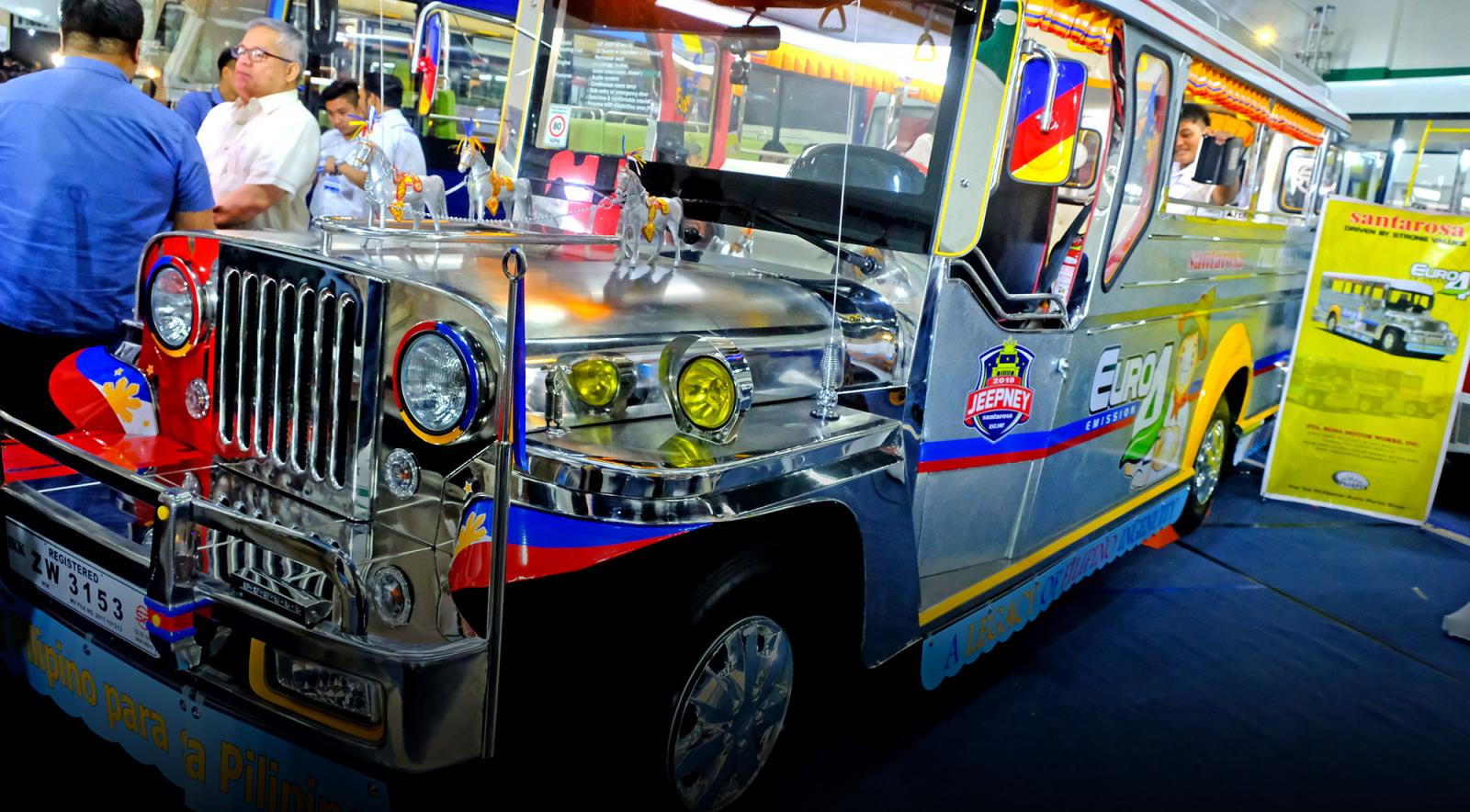 A beautiful 2019 Jeepney
Those standards included as following: Vehicles with combustion engines must have low emissions (as good as the standard for EURO IV emission or better. Jeepney has to have speed limiters installed. For some special types of PUVs, it is a must to have a Closed-Circuit Television (CCTV) camera on it. It is also recommended for Jeepneys to be equipped with a dashboard camera, a Wifi router, or have a GPS. The vehicle must be friendly with PWD (Person With Disability). It is a must for seats to be comfortable, along with a number limit for buses about standing passengers (equal or less than five persons/ bus).
This is considered as a Jeepney phase-out effort made by the government. Therefore, every Jeepney driver has to be trained in driving techniques, safety measures, and proper etiquette in dealing with passengers. These courses varied from free to charged courses.
Jeepney modernization advantages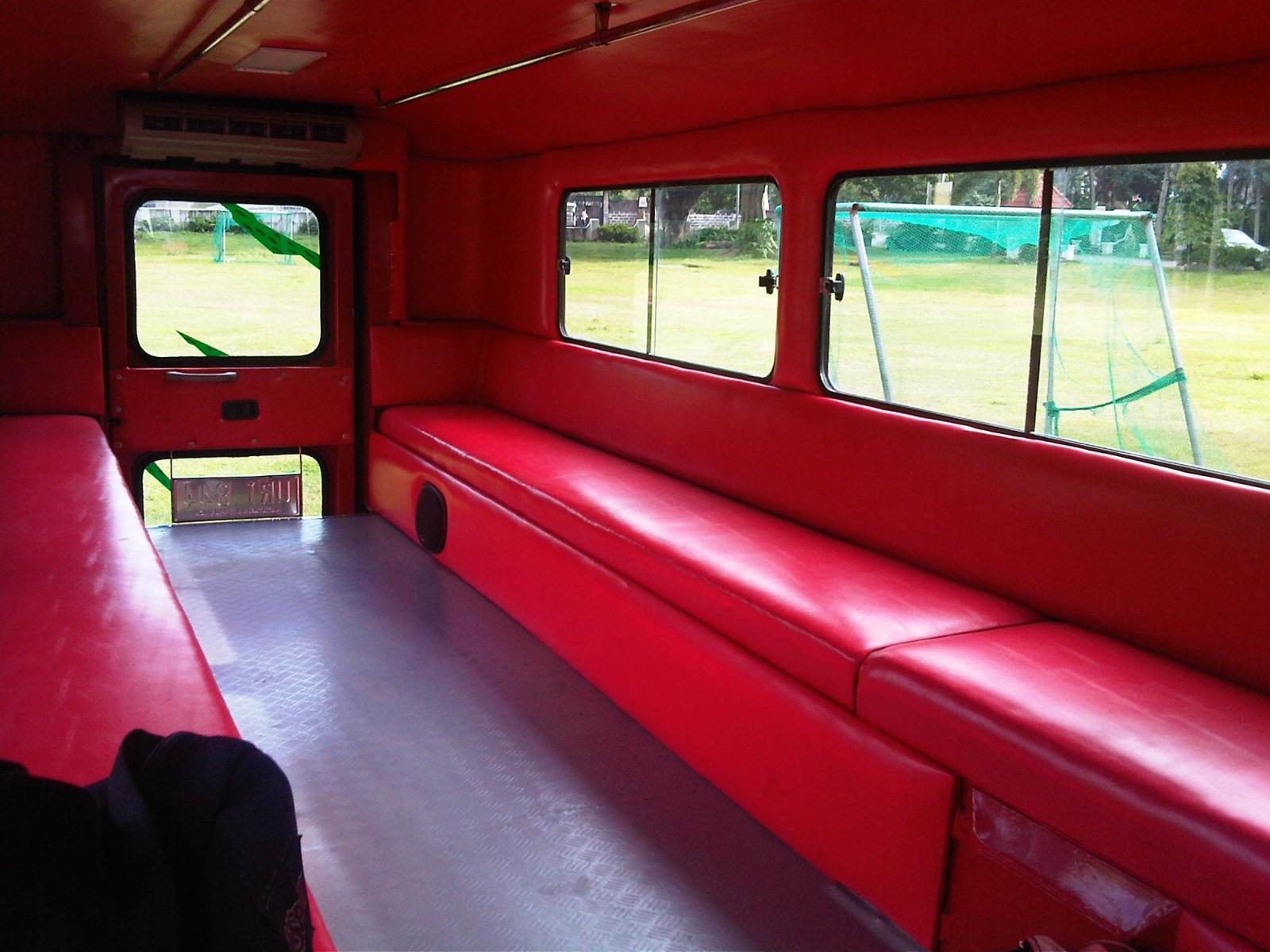 Inside a modern Jeepney 
Talking about Jeepney Modernization Program, we will inform you about the advantages of it as follows:
- JMP creates a large job demand for Jeepney drivers and operators. There is a chance that the JMP can get the vehicle manufacturing industry into the country and increase the labor work for people.
- The number of visitors comes to cities of the Philippines has increased by around 70% (from 2013 to present), which leads to the rise in transportation needs. Since then, JMP plays an important role as the most popular public transportation, besides, JMP also acts as a national image of our country, as they are colorful and environmentally friendly.
- JMP lends a hand on reducing traffic congestion, makes the circulation of vehicles flow better, and reduces traffic jams, especially during rush hours.
- For riders, Jeepneys provide a safe, convenient, and secure way of traveling, as these vehicles are equipped with GPS, CCTV cameras, a dashboard camera, and even Wi-Fi connection.
- JMP can provide an unchanged amount and convenient way of payment for riders, and also provide a solid payment for drivers and operators.
Jeepney modernization disadvantages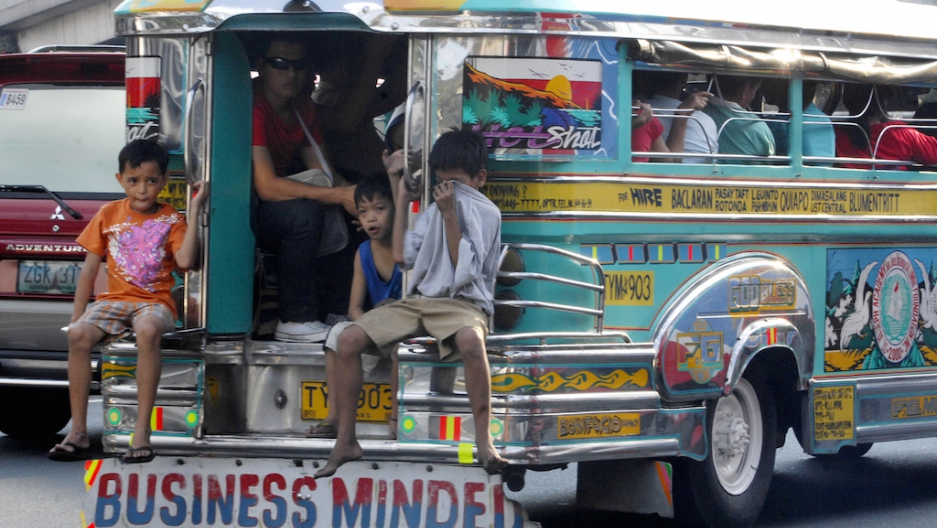 No more old tradition Jeepney
Although there are a lot of advantages to JMP, there are still disadvantages. Those disadvantages mentioned in this article are about the driver and the operator's side. Even though there are helps coming from the government, they are the one who has to endure for their monthly amortization, road fee, vehicle fee, insurance fee, etc. Since those who are giving their Jeepneys for rent can earn a standard income preset by the government, renters and those who bought on installment plans are not.
Almost all the drivers and small business operators aren't able to franchise the new vehicles as the average cost of each are around Php 2 million! A study shows that the average subsidy (that one can earn using each vehicle) is about Php 800/day or Php 24,000/month. This is not enough for Jeepney drivers and operators.
Jeepney modernization cost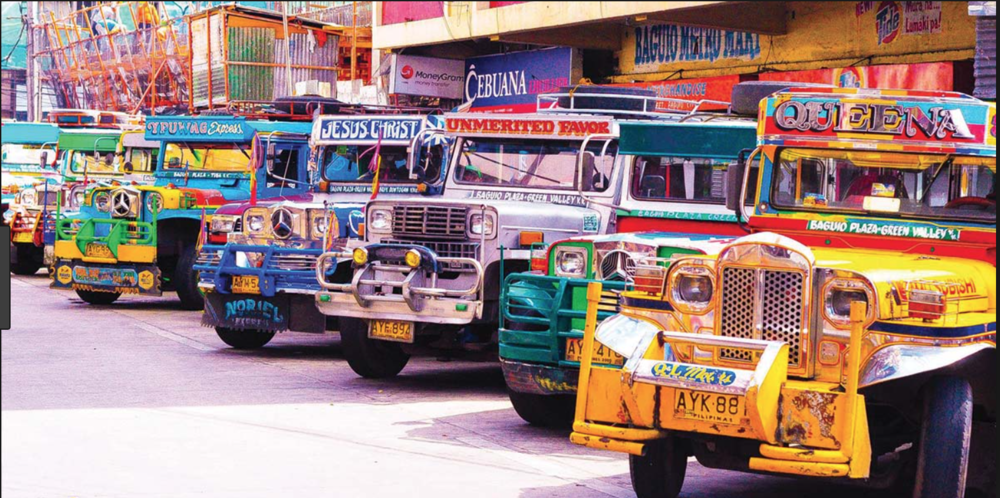 Rare colorful Jeepney
As a research of a Japan group pointed out, traffic in the Philippines in 2030 may cost Php 6 billion daily if left unsolved. This is why the JMP was started. For the country, the government has set up a Php 1.5 billion loan for facilities to PUV cooperatives since 9/2019. They also help with subsidizing Php 80,000/ vehicle which is purchased by operators or drivers.
About this cost, some people point that the bus companies will require lots of inspectors, drivers, route planners, traffic jam planners, economists, mechanics, panel beaters, workshops to carry out repairs, IT guys, lawyers, etc, just to pass the work through. They have a doubt whether the jeepneys have any of this other than the drivers and some "hick shop" to knock out dents and do a few resprays and detailing. Most of those jeepneys that they have a chance to see are in bad conditions like belching smoke, have bald tires, and the drivers drive when having no consideration for other road users. It is the point that they started to doubt the worth of JMP. They questioned whether the tune of billions of pesos per day of lost revenue and wasted fuel just so these guys can have a job is worth it.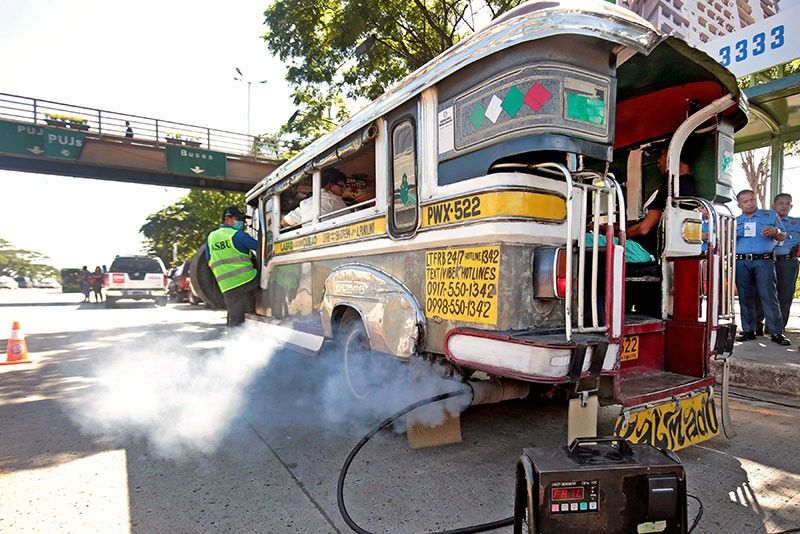 Jeepney exhaust checking
Talking of jeepney modernization pros and cons, some think that the only disadvantage is we lose the original look of the Jeepney we are used to riding on every day. There will also be a problem of adjusting our budget as the modern one will have higher fares. But the majority of it is more of the advantage side which just outweighs the disadvantage of modernizing the jeepneys. We will be having more convenient and safer rides compared to the old jeepneys we have right now. They admitted that they would rather pay a premium price for their convenience and safety rather than go with the traditional jeepney wherein there are not safe at all.
Besides, since Jeepneys are the dinosaur of the Philippines transport system having its birth right after WW2, the Philippines government should find a way to give work to the displaced jeepney drivers.
We hope this post had helped you with understanding the Jeepney modernization program and also its advantages and disadvantages. View more expert car reviews, tips & advice on Philcarreview.com!