Toyota Vios 2012 is a durable vehicle and meets these needs: compact, low fuel consumption and moderate price.
Toyota Vios 2012 Overview
Officially born in 2003, after 9 years of presence, Toyota Vios 2012 has established its own position with outstanding sales compared to rivals. This is a durable vehicle and meets these needs: compact, low fuel consumption and moderate price.
Capturing customers' needs, Toyota created the legendary model Vios
Price in the Philippines
In June 2020, the price of used/secondhand Toyota Vios 2012 in the Philippines is only from 400000 PHP.
Exterior Review: How does Toyota Vios 2012 look?
2012 Toyota Vios still carries the unique exterior design features from the previous generation. Still curves, rounded curves around the car's small body. The body is neat and has many feminine features. Vios gives users a simple, lightweight feeling in the style of "durable, solid dress", not picky and fancy.
2012 Toyota Vios viewed from the front
2012 Vios is slightly improved at the front, chrome grille with fish gills with 2 horizontal bars, headlights placed deep on the front bumper, fog lamps are also redesigned and located in a lower position on the rear bumper. The rear end has not changed much with the design almost similar to the 2011 version.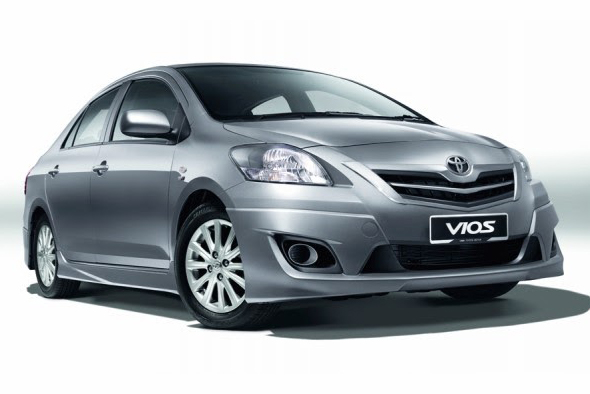 2012 Toyota Vios has standard exterior equipment such as fog lights, folding power mirrors with body-color & integrated turn signals and brake lights on high.
Interior Review: What's inside Toyota Vios 2012?
Looking at the whole, we can see that the interior of Toyota Vios 2012 is still not much different from previous generations. Still "minimalistic" to the lowest level of details present in the car. Vios 2012 interior does not have any redundant details, all designed to give passengers convenience and comfort when using the car.
This car gives the driver a feeling of gentle steering control
Two rows of seats on Vios are also designed quite simply by the main material of felt and leather. With Vios G version, the seats are covered with leather, only Vios E version is equipped with felt seats.
The seats of the Vios E version are felt seats
Engine & Performance of 2012 Vios
Toyota Vios 2012 is equipped with an I4 VVT-i 1.5L gasoline engine, maximum capacity of 107 HP at 6,000 rpm, maximum torque of 141 Nm at 4,200 rpm. The 4-speed automatic transmission is equipped for Vios G version, particularly for E version equipped with 5-speed manual gearbox.
Vios gives the driver the feeling of gentle control and easy to move in a narrow range. However, when driving at high speeds, the Vios feels bouncy and unsafe. Perhaps, the car is only designed to fit the needs of moving in the city.
This model uses I4 VVT-i petrol engine 1.5L
2012 Toyota Vios Safety Review
2012 Toyota Vios is equipped with these standard safety types of equipment:
2 airbags for the front row

ABS anti-lock braking system

Electronic brake-force distribution system EBD

Emergency brake assist EBA

Anti-theft System
Key Specs of Toyota Vios 2012
Verdict: Conclusion about 2012 Vios
In general, experts rated the 2012 Toyota Vios as convenient, compact and worthy of the price. You can find used Toyota Vios or other Toyota model for sale at the cheapest price.
View more at Philcarreview.com