Are you looking for a new sporty and versatile SUV? Here you can find a good one.
​1. What is the 2019 Toyota Rush all about?
Toyota is one of the most well known giant automakers in the world and they are back once again with the new MPV or multi-purpose vehicle known as the Toyota Rush. We will be expecting a total makeover on both its interior and exterior as compared to its initially released version. The second generation of the Toyota Rush comes with a more sporty and elegant look and a more powerful version of its forerunner.
Giving you a brief history of the Toyota Rush, it actually started off during the early 90's with the Daihatsu which is a subsidiary of Toyota which manufactures small cars in Japan. Daihatsu created and sold the Terios Model during the late 90's era. The Terios was relaunched in Indonesia and called as the Taruna was sold in the market from 1999 to 2006 as a 7-seater vehicle or a space wagon.
2018 Toyota Rush 1.5 G AT Review
The Toyota Rush was initially launched in the Indonesian Market in November last year and it was set to compete with the Mitsubishi Expander as well as with Honda BR-V which are front wheel drives and other compact MPVs' within the same price range.
In this article, Philcarrreview.com will be providing you with a detailed review of the 2019 Toyota Rush to help future car buyers in making sound decisions before deciding to embark on a major car purchase.
2. Toyota Rush 2019 Exterior
At first glance, you would think that the 2019 Toyota Rush has some sort of a resemblance with the Toyota Fortuner. Well, you can say that the 2019 Toyota Rush has a more sporty and elegant look that is inspired by the Fortuner which is considered as one of the best selling points of this MPV.
Appearance wise the Toyota Rush looks more attractive and appealing as compared to the two of the most popular MPVs' manufactured by the Japanese automaker which are known as the Toyota Innova and the Toyota Avanza though both vehicles have also made their niche in the car market.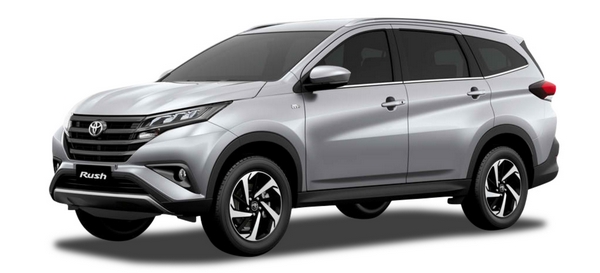 At first glance, you would think that the 2019 Toyota Rush has some sort of a resemblance with the Toyota Fortuner
The Toyota Rush also looks trendy because of the additional exterior features that were added such as the upswept LED headlights, a brand new designed fog lamps and a four-slat grille which adds an aesthetic value to the vehicle but at the same time it helps reduce air friction when you are running at full speed on a highway.
A couple of aesthetic enhancements have been made on the rear part latest model of the Toyota Rush such as LED taillights, tailgate mountain spoiler and a rear spoiler which increases the grip on the car. Aside from making your car look more attractive, the traditional antenna has been replaced with a shark fin antenna to help enhance cellular and GPS services and can also provide improved AM/FM radio reception. Another noticeable change is that the previous model houses its spare tire at the tailgate and it has now been moved to the undercarriage of the vehicle.
Toyota Rush 2019 Dimensions
Length

4,435 

mm
Height

1,705 

mm
Width

1,695 

mm
Wheelbase

2,685 mm 

Ground clearance

220 mm 
3. Toyota Rush 2019 Interior
The interior of the Toyota Rush would match its exterior which looks equally classy and spacious compared to its older model. Its interior has some similarities with the Fortuner and is equipped with a 7-inch touchscreen LCD with a USB Port and a Bluetooth which enables you to connect your smartphone and enjoy listening to music with eight sets of speakers installed for excellent sound quality. The interior still managed to look very classy even though its made of plastic but its embellished cream-coloured trimmings, a couple of silver linings and fine faux stitching totally upgraded the overall look.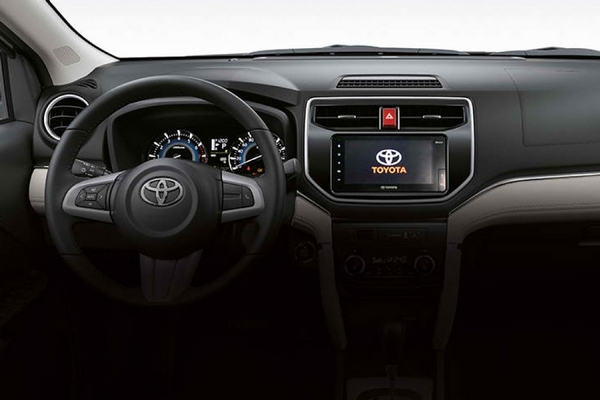 The interior of the Toyota Rush would match its exterior which looks equally classy and spacious compared to its older model
The Rush also made a major upgrade of its steering wheels since it now comes with audio controls which is similar to FJ Cruiser. Additional features would include a push button key-less ignition system and an automatic climate control system.
Since the Rush is being offered in 2 versions, the 5-seater and 7-seater are very ideal for medium-sized and extended families which is very much common here in the Philippines. It has more legroom and offers a more spacious interior compared to the previous model. Middle and rear seats are adjustable to provide more comfort to its passengers and are foldable in order for the space to be maximized.
In terms of safety features, the 2019 Toyota Rush, just like its predecessor offers the same safety features that the carmaker has to comply with. The vehicle has a two-way braking system which is the disc front and rear brakes. The car is equipped with a standard 6 SRS airbags and seat belt indicators on each seat. The standard Anti-Lock Braking system ABS and the Emergency Brake Signal EBS are also added on the car.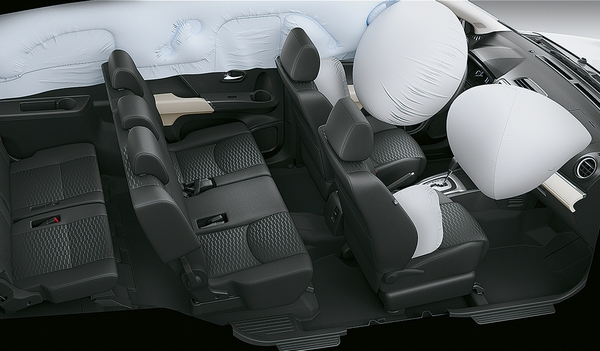 The car is equipped with a standard 6 SRS airbags and seat belt indicators on each seat
4. Toyota Rush 2019 Engine & Performance
The Toyota Rush has the same engine as the Avanza. The Vehicle is powered with a four-cylinder 1.5 liter Dual VTTi (intake and exhaust) gasoline engine which is capable into churning a neat 104 PS that can be made at 6,000 Rpm and can peak at 136 Nm at 4,200 Rpm of Torque which results to a reliable road performance when paired with either the 5-speed manual or 4-speed automatic transmissions.
The Toyota Rush is also equipped with a 16 valve smaller engine which is known to be more fuel efficient compared to its previous models. The vehicle is also known for its rear-wheel drive system which makes driving uphill easier as compared to a front wheel drive. A new feature known as the Hill-Start Assist Technology provides and maintains the vehicles' stability even on long drives.
5. Toyota Rush 2019 Variants & Price in the Philippines
The Toyota Rush has two models/variants that car enthusiasts can choose from:
Toyota Rush 1.5 E
Available in 4-speed manual and automatic 5-speed transmissions
5-seater MPV​                                                                                                                     
Toyota Rush 1.5 G 
Available in automatic transmission
7-seater MPV
Accessorized with roof rails and 17-inch wheels
The Toyota Rush is available in six unique colors:
Black Metallic
White
Silver Mica Metallic
Bordeaux Mica
Dark Red Mica Metallic
Bronze Mica Metallic
In the Philippines, the Toyota Rush price ranges from P948,000 to P1,070,000. Please note that prices are subject to change anytime, feel free to contact the local Toyota dealerships for a more updated pricing.
|  Model | Price |
| --- | --- |
| Toyota Rush 1.5 E MT (5 seats) | P948,000 |
| Toyota Rush 1.5 E AT (5 seats) | P988,000 |
| Toyota Rush 1.5 G AT (7seats) | P1,070,000 |
6. Toyota Rush 2019: Verdict
With such a lot of advanced features pinned on the Toyota Rush 2019, the all-new Rush can confidently take the fight to other fierce rivals in its segment. In the Philippine market, it was said that 1,000 units of the Rush would be produced each month to meet the overwhelming need of Filipino car buyers. So, if you find our review convincing, rush to the nearest dealership right now!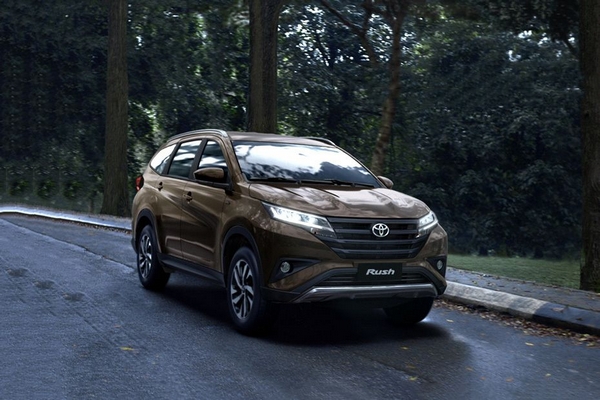 ​
The all-new Rush can confidently take the fight to other fierce rivals in its segment