2017 Toyota Revo is a real revolution in manufacturing: bigger, wider, faster and cooler than all its predecessors and available at the lowest prices.
Overview
Toyota Revo is a model in Toyota's Hilux pickup line. A special feature of the appearance of the 2017 Toyota Hilux is in its "toughness" and extremely energetic. Therefore, the car is always the first choice of many customers, from business to personal travel. Besides, the car also owns a comfortable interior compartment, more comfortable than previous versions. With its strong front bumpers and smooth grille, the Hilux is intended to look rugged and innovative.
The strong look of 2017 Toyota Hilux Revo
Price in the Philippines of Toyota Revo 2017
In 2020 you can find used 2017 Revo cars from about ₱ 300,000.
2017 Toyota Revo Exterior: Simple but Impressive
The exterior of the Revo 2017 is quite impressive, with a chrome grille, headlights with a group-connected design, LED headlights that can run both day and night. Changes in the front of the car mean technology with wheels made of alloy which gives this model a great strong feeling.
The Hilux Revo 2017 is available in these colors: Super White, Attitude Black Mica, Graphite, Silver Metallic and Dark Teal Mica Metallic.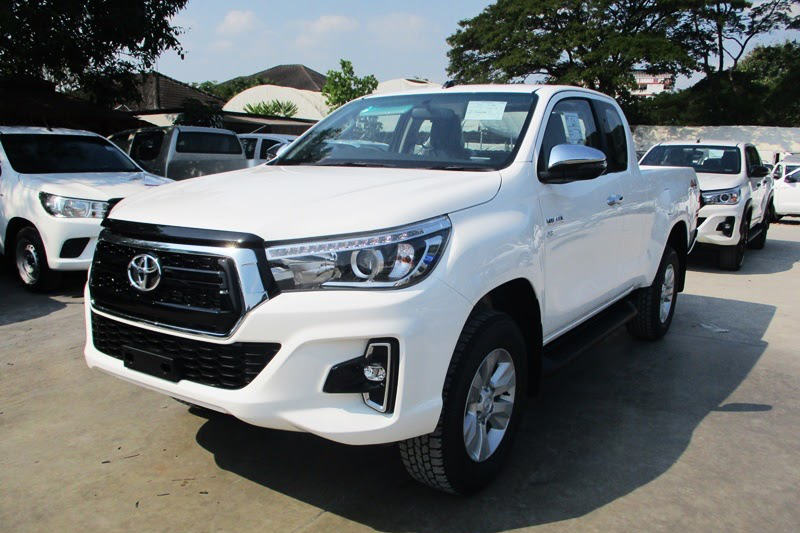 Toyota Hilux in Super White color
In the mirror and door handles, the 2017 Toyota Hilux Revo also adds refined chrome elements. In addition, the rear door is designed to last longer making the interior space will be extended a bit longer. This is a quite useful improvement for a pickup model.
The overall design of this Hilux version is a harmonious combination of strong and robust lines to meet the requirements of the work, with exquisite and modern details suitable for personal use.
2017 Toyota Revo Interior: Spacious space and sufficient equipment
This model is equipped with a multifunction steering wheel. In the center console, the car uses a multi-level design entrance with two LCD screens of different sizes. Compared to its predecessor, the 2017 Toyota Hilux Revo brings in a more fashionable design style.
The steering wheel of Hilux lacks Cruise Control (CC)
The dashboard is designed in a modern sporty way, which can be said to be the most positive point in the interior of the car compared to other pickups.
In addition, Toyota also equipped the details of shiny black plastic, silver emulsion and leather imitation plastic to help the interior of this car not boring and more vivid.
The most advanced version 2.8G 4x4 AT is equipped with two rows of high-quality leather seats
Engine & Performance of Hilux Revo 2017
Toyota Revo 2017 has 1 choice of gasoline engine and 3 choices of diesel engine. In particular, the gasoline engine is a Dual VVT-i 4 cylinder engine, with a capacity of 2.7L 2TR-FE, producing 164 horsepower with maximum torque of 245Nm and a 5-speed manual gearbox.
In addition, the three diesel engines include a 2.4L 2GD-FTV 4-cylinder engine, producing 148 horsepower with a maximum torque of 343 Nm, combined with a 5-speed manual gearbox. Next is the 2.8L 1GD-FTV diesel engine, producing 170 horsepower with maximum torque of 343Nm, transmitting power through a 5-speed manual gearbox. Finally and most powerful is a 2.8L 1GD-FTV diesel engine, with 175 horsepower at 420Nm of maximum torque and a 6-speed manual gearbox.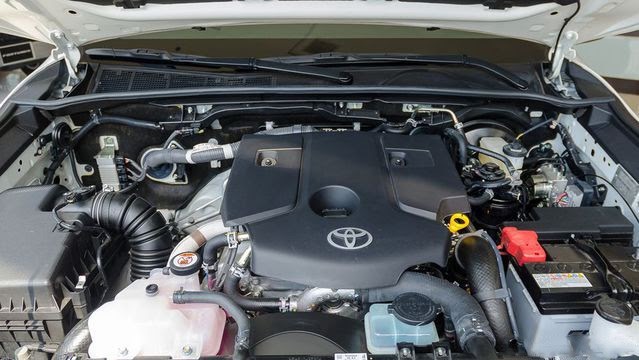 Toyota Revo is supported by either Eco or Power Mode, like the new Innova and Fortuner. When using the car in Eco Mode, the gearbox will change gears soon, the car shifts smoothly and does not cause discomfort to the driver. When you need a more powerful car, you can switch to Power Mode, the gearbox will shift later, suitable for cargo or off-road.
Hilux Revo Safety Review
According to Toyota, they provide apart from front, side, curtain shield, and driver knee SRS airbags, the Revo 2017 includes a rear camera that helps you back up into tight spaces and avoid obstacles behind the vehicle.
Toyota Revo 2017 Key Specs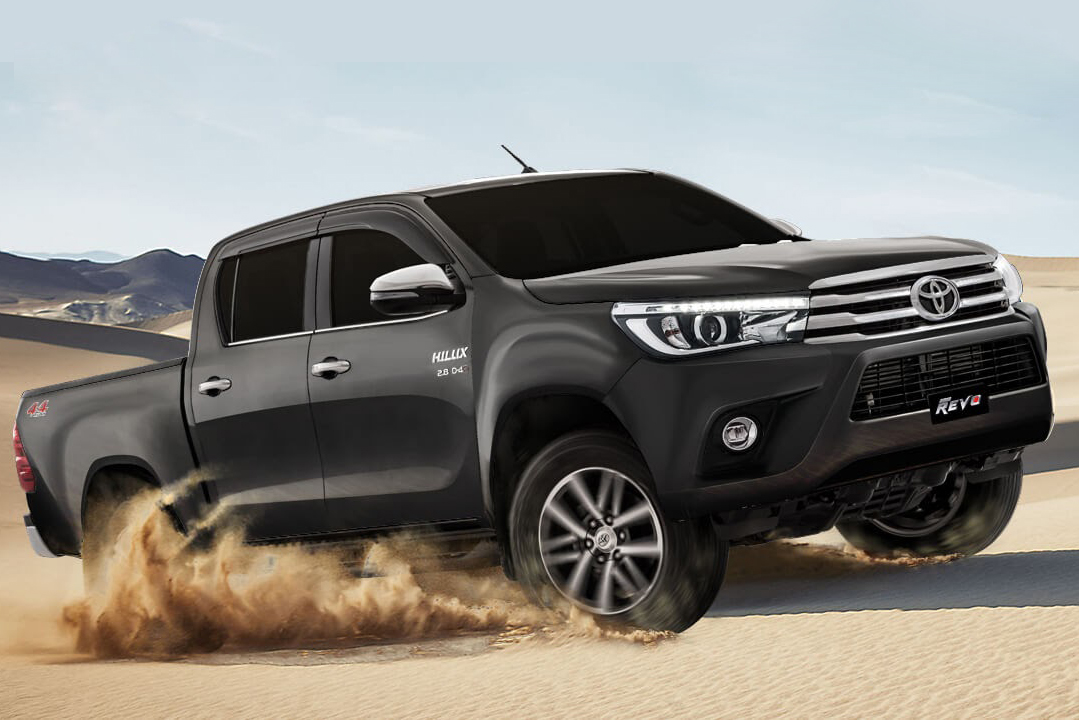 Verdict: One of the pickups worth choosing
In general, Hilux Revo 2017 is a pickup truck that has to compete with many competitors in the segment. Besides, the minus point of the car is the high price and not too much features, especially the lack of an automatic gearbox. However, changes in the exterior, driving mode and modern features prove the Hilux is aiming for a comprehensive pickup.