Find out the specifications and price of the Toyota Rav4 2018 Philippines in our comprehensive review.
1. Toyota RAV4 2018 Philippines: Introduction
In 2018, Toyota has given a huge refresh to the 2016 Rav4 model. The most obvious improvement is up front, where the overall look is sportier and rougher. There's a new gauge cluster inside, while Premium models get a new 6.5-inch touch screen.
If you're willing to buy a new SUV, you 're probably thinking about it as well. Before you do that, Philcarreview.com will go ahead and make a depth-review at this Toyota RAV4 2018 Philippines. Start by looking through the important things you need to know about this car.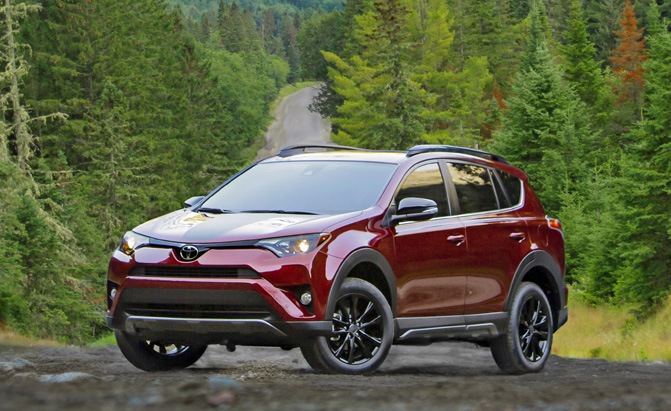 Another new and improved Toyota RAV4 was launched in 2018
2. Toyota RAV4 2018 Price & Variants available in the Philippines
Below is the price list for the Toyota Rav4 2018 for your reference before deciding to buy. White Pearl color costs an additional P15,000.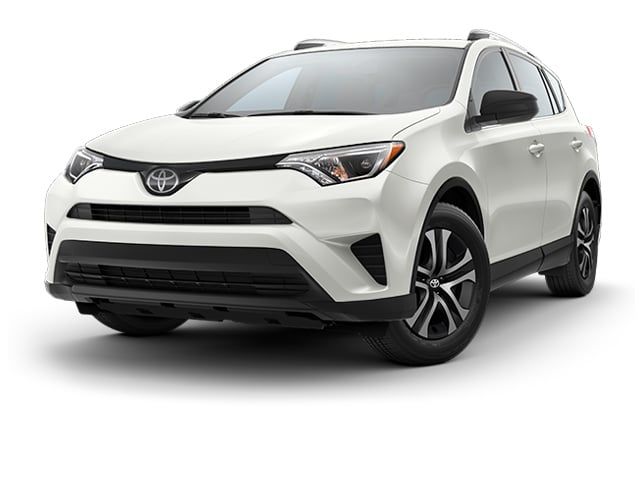 White Pearl color costs an additional P15,000
3. What's missing from the features?
Unfortunately, the interior materials look like a low-quality make and are way too safe. It seems that there are some cheap-looking plastic pieces you don't want to find in a brand new car.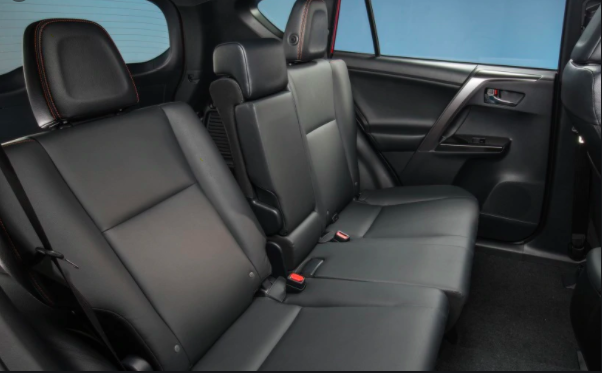 4. Toyota RAV4 2018 Philippines: Review proper
Dimensions
Toyota Rav4 2018 has dimensions in length x width x height of 4,600 x 1,846 x 1,705 mm, wheelbase of 2,660 mm. 
Engine & Performance
Under the hood is the same acquainted 2.5-liter VVTi engine that creates 178hp (2hp increase) and 233Nm of torque. It's combined with a 6-speed automatic transmission. The Premium variant is the only trim accessible with an all-wheel drive AWD option while all models come standard with front-wheel drive FWD.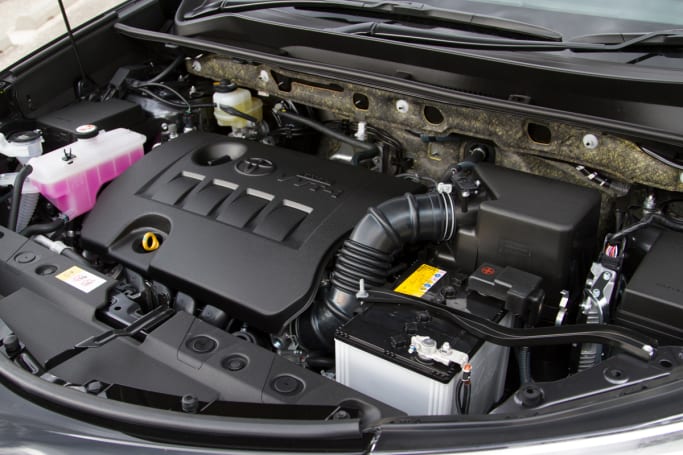 The 2018 RAV4 is equipped with a 2.5L Dual VVTi 4-cylinder engine.
The engine is designed for efficient fuel consumption while not affecting performance. This car also offers a hill-climb assist and downhill-assist system that enables anyone who drives it to climb and down the slopes effortlessly. So you can enjoy an adventurous ride while driving, without stressing too much on your body.
Safety features
For this 2018 model, it offers ample protection to the drivers and passengers, with SRS airbags installed. If you choose the RAV4 Premiums, there is also the SRS Airbags on the curtain shield and the side of the driver and passengers. If you select the RAV4 and Active+ packages, it will also come with a knee airbag.
Besides, the Anti-Lock Brake system ensures that the driver can still control the movements of the car in slippery roads. Vehicle Stability Control also allows the 2018 Rav4 to be steadily stable when turning on a curve and helps avoid side skids.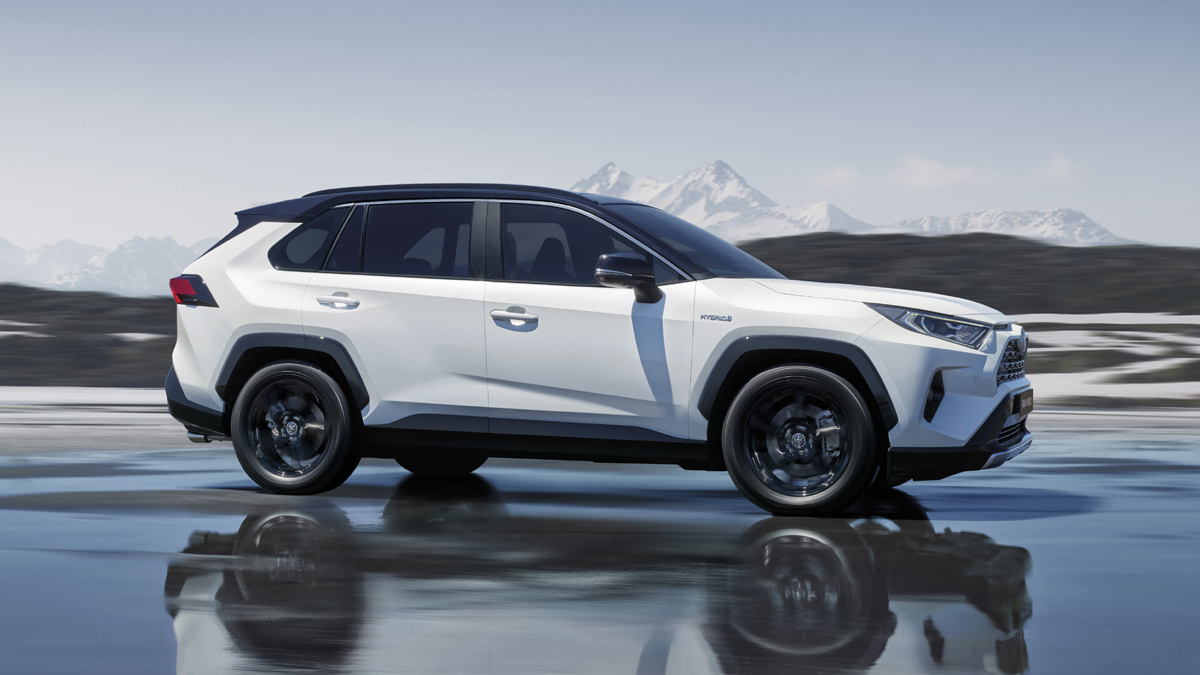 Comfort Features
Inner space is one aspect that many Filipinos consider to make sure there's enough capacity for people to sit comfortably, and for cargo space as well. So how much space does the 2018 Rav4 offer?
The 2018 Toyota Rav4 interior has five seating capacity, and with all the back seat put up straight, you'll still have plenty of space for some grocery shopping bags or even luggage. When the back row is folded, more storage can be used if you 're on your own or with a single friend for a long journey.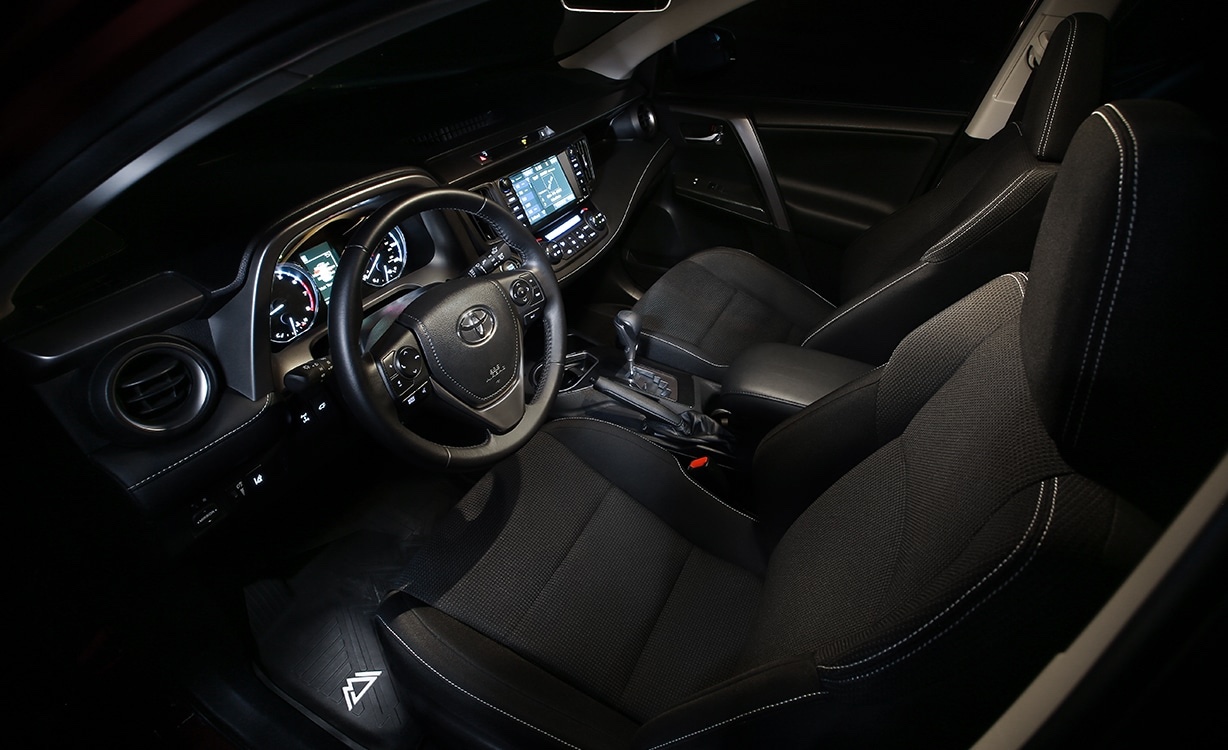 Stylish 2018 Rav4 Interior
As a wise design, its interior is as elegant as its exterior appearance. The seats are offered in three different fabrics, depending on the variant of Rav4 you are going to select. Car seat types include natural leather, sporty fabric and fabric. Though, depending on your personality, this can give you the right options. If you're like the kind of person who leans more towards comfort than style, you can opt to have fabric seats over natural leather for more breathability and convenience.
RAV 4 Premiums offer a 6.5 "digital LCD monitor with a smart touchscreen and standard car multimedia features including DVD, CD, tuner, MP3, Aux, USB, iPod and Bluetooth connectivity.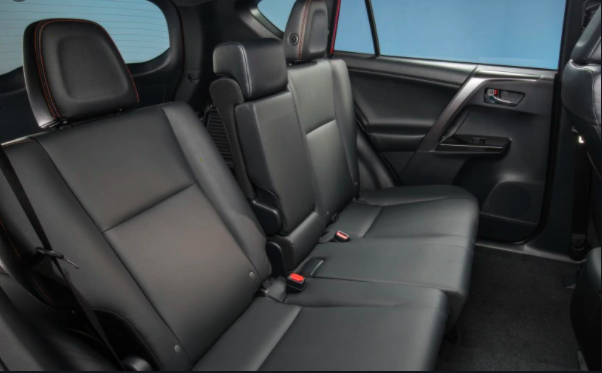 RAV 4 Premiums offer a 6.5 "digital LCD monitor with a smart touchscreen
Exterior
As an SUV or Sports Utility Vehicle, Toyota RAV4 of course maintains its image as a sport-oriented vehicle to meet the needs of people who have an active lifestyle. Those who love going outdoors, experience the terrain and go to some adventures will enjoy using it.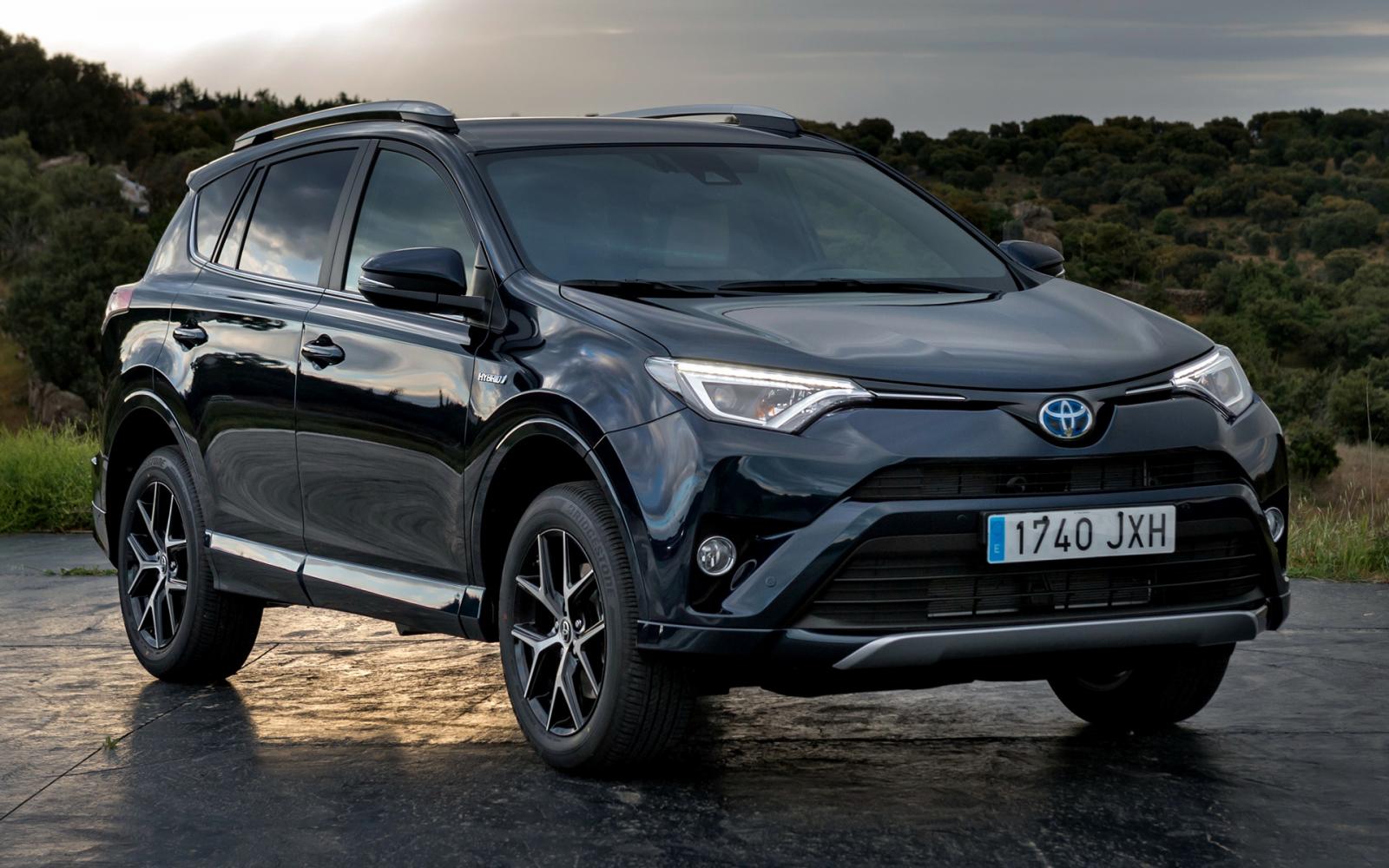 2018 Toyota RAV4 exterior is fitted with alloy wheels, which means that you can use it on all types of terrain, whether on-road or off-road. It is available in 8 colors:
Blue Metallic

Orange Metallic

Dark Red Mica Metallic

Bronze Metallic

White Pearl

Silver Metallic

Gray Metallic

Black Mica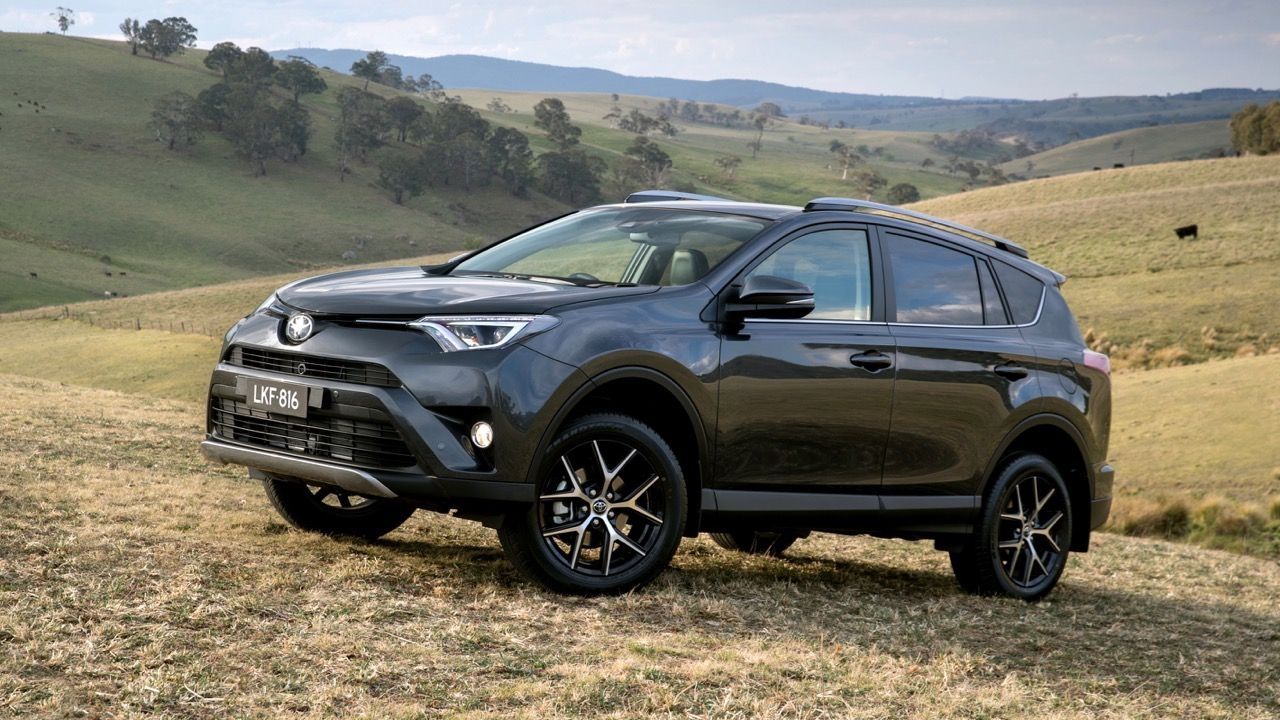 Don't be fooled by this new RAV4's sleek look. It might seem that it's just made for city road trips on smooth tracks, but it can handle itself perfectly no matter what kind of road you are driving.
5. Toyota RAV4 2018 Philippines: Final recommendation
Now that we've listed and defined the new features of the 2018 Toyota RAV4, all you have to do is choose which one would best fit your personality and budget. If you're in an active and sporty style, this is the right car for you, although it is a little expensive compared to competitors like Jeep Compass or Honda CR-V.
Visit Philcarreview.com to read more car reviews!