Here is our review about Toyota GL Grandia and GL Grandia Tourer 2019.
2019 Toyota Hiace Grandia Overview
The Toyota Hiace is a modern evolution of Toyota's legendary van, it offers more style, comfort and is as adaptable as could be. The most evident change is its front end has grown a hood. This not only makes it look more modern and refined but also improve crash protection.
The Toyota Hiace 2019 is available in three variants: Commuter Deluxe with 15-seater, GL Grandia with 12-seater, and the GL Grandia Tourer with 14-seater.
Here is our review about Toyota GL Grandia and GL Grandia 2019
Toyota Hiace Grandia 2019 Price in the Philippines
Pricing for the 2019 Toyota Hiace is as follows:
2019 Toyota Hiace GL Grandia 6-MT - PhP 1,973,000

2019 Toyota Hiace GL Grandia 6-AT -  PhP 2,048,000

2019 Toyota Hiace GL Grandia Tourer 6-MT -  PhP 2,145,000

2019 Toyota Hiace GL Grandia Tourer 6-AT - PhP 2,220,000
2019 Grandia Exterior: Inspired by the design of Toyota Alphard
Toyota Hiace 2019 is greatly improved by the manufacturer for the design to help the car become sportier and sharper. In terms of size, the new Hiace surpasses its predecessor in every way. The GL Grandia is 5,265 long, 1,950 wide and 1,990 mm high, with a wheelbase of 3,210 mm. Particularly, the GL Grandia Tourer is larger when it is 5,915 mm long, 2,280 mm high with a wheelbase of 3,860 mm.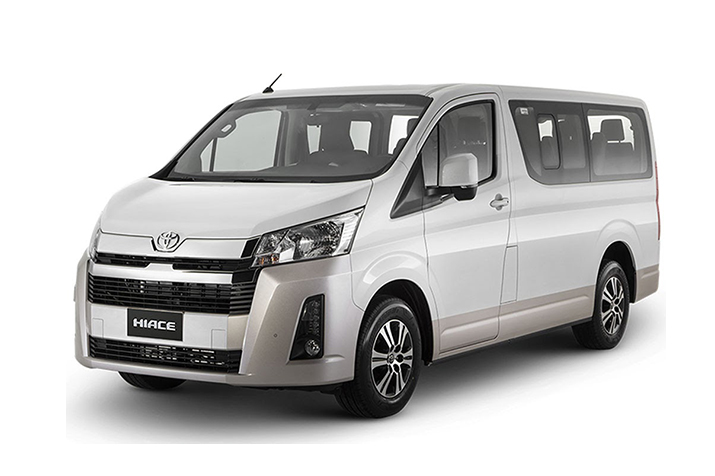 The lighting system on the 2019 version is more upgraded than before
The body does not change too big, the car door is in the traditional sliding form and can open the rear door. The width of the door is 1,610 (mm), making it easier to carry large luggage.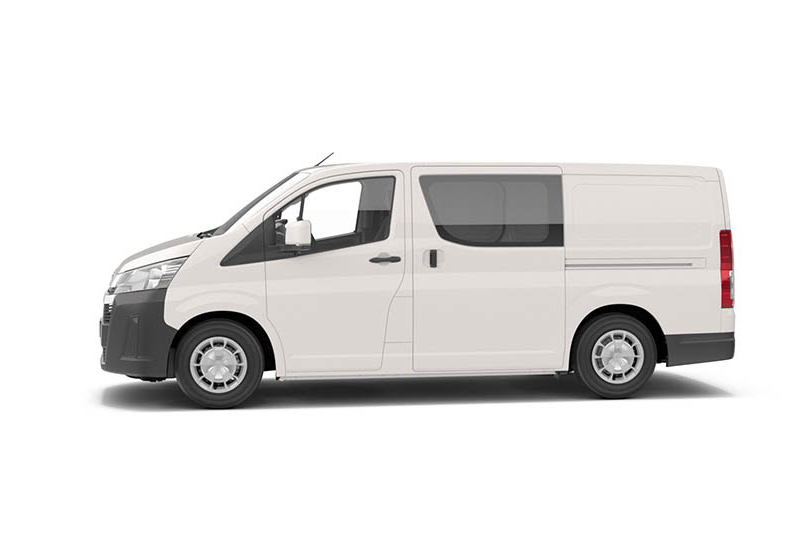 The body of GL Grandia 2019 is simple and compact
The rear end has no significant change with the old version. The rear light cluster is still vertical, neatly placed on both sides. The entire lower bumper is painted gray contrasting with the body color. Toyota was very "generous" when equipped on the Hiace 2019 a lot of chrome details, helping its model look brighter and more polished.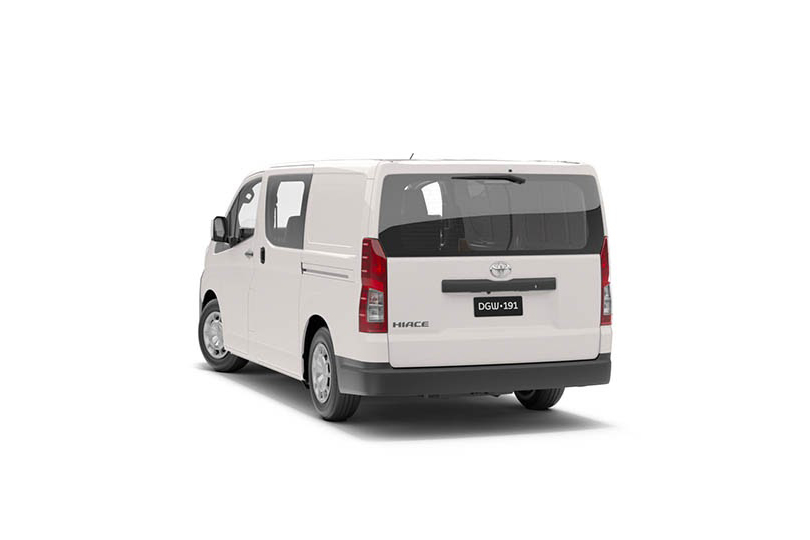 2019 Grandia Interior: More refined design
It can be said that the 2019 generation of Toyota Hiace pays great attention to the spacious space in the car by a reasonable arrangement of aisles. Spacious cabin compartment with a wheelbase of 2570mm, the travel corridor of people are placed in the middle to 322 mm wide. This advantage makes it easier for passengers to get on their seats. Besides, the legroom of the occupant is 297 mm, 67 mm wider than the old generation to create comfort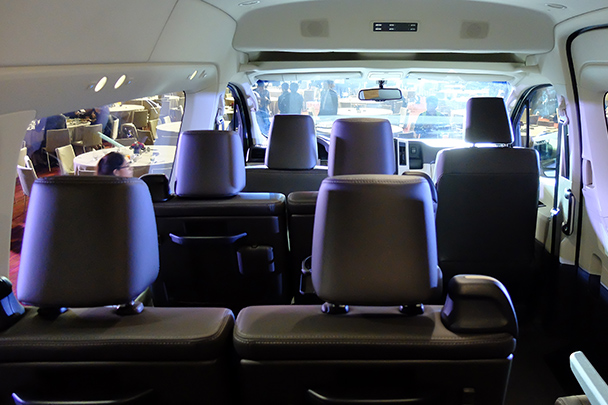 The seat system of this model is covered with felt
The leather-wrapped plastic steering wheel is very simple, without any functional buttons integrated on the steering wheel. Behind is a clock that displays analog vehicle information. The dashboard is flat and simple with round buttons. In general, the cabin of this tourist car is nothing outstanding, not luxurious but "sufficient", achieving the purpose of the user.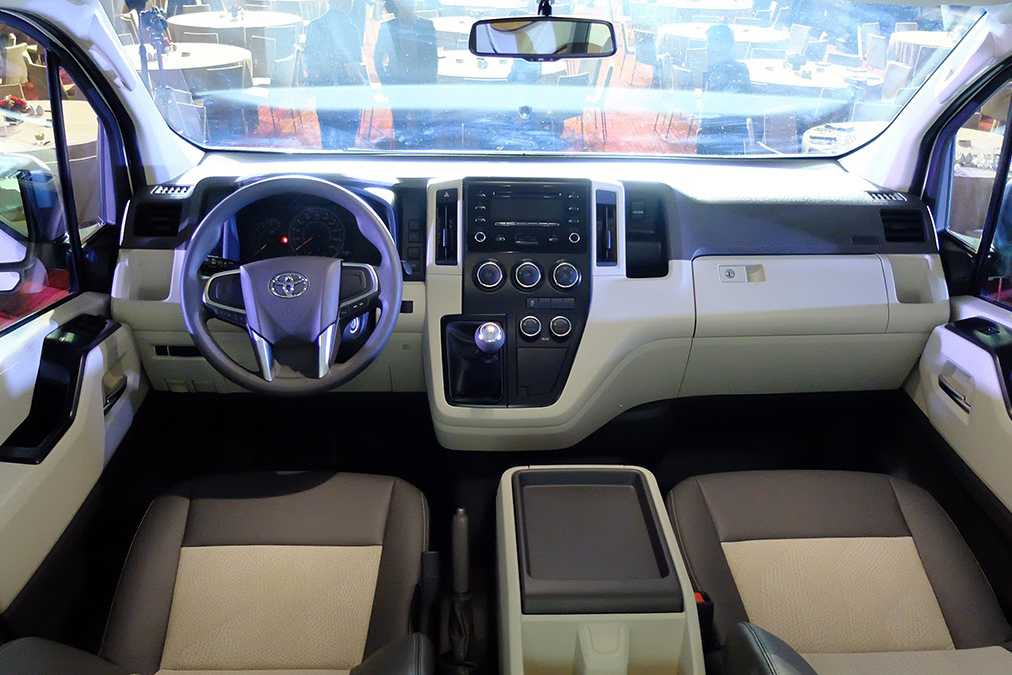 Utilities on the Toyota Hiace 2019 are sufficient
In particular, the indispensable entertainment system is a 1-disc FM / CD type with 4 speakers, which can connect to AUX / USB ports. There is also a 12V charging port for electronic devices
Hiace Grandia Engine & Performance Review : Changing position of the engine improves the driving comfort
Toyota Hiace Grandia 2019 owns a 2.8 liter 4GD-FTV turbocharged diesel engine. On the GL Grandia, this engine produces 173.5 hp and 420 Nm and 450 Nm of torque, comes with a 6-speed manual gearbox. It also has an automatic transmission option. Particularly the GL Grandia Tourer is larger but has a smaller capacity with 161 horsepower. The previous generation Hiace 3.0-liter turbocharged diesel engine of 1KD-FTV has been removed.
Hiace 2019 engine
As announced by the manufacturer, the fuel consumption of this model is only at 8 liters/100 km of mixed roads. Fuel consumption of this car is even lower than some small cars.
Drivers of this Hiace 2019 think that the noise level of this car is quite high but still at an acceptable level. Because the design of the car puts the engine directly below the cabin of the occupant, high noise levels are inevitable. However, when running on crowded roads, Hiace can completely move flexibly thanks to the small turning radius.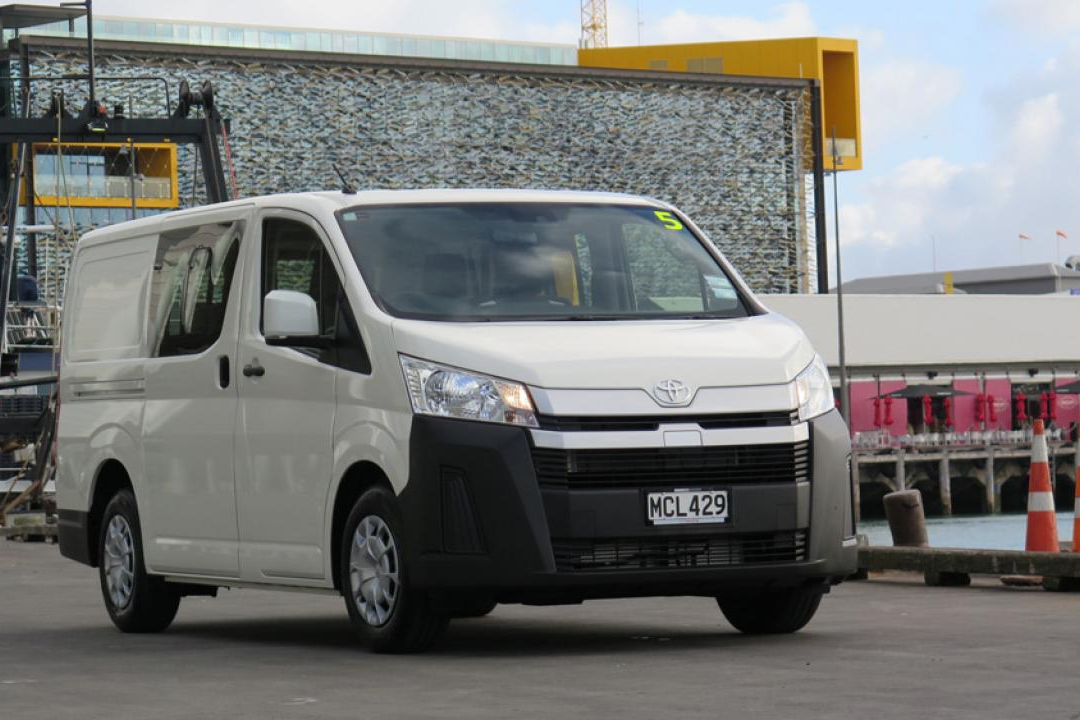 Toyota Grandia 2019 Safety Review
Regarding safety equipment, it is certain that this model will not be owned by the technology of small family cars. Toyota Hiace Grandia 2019 is also equipped with both active and passive safety features but quite a few.
Anti-lock braking system ABS

Seat belts for the front row (3), the first and second row (2)

Warning wearing seat belts on driver's seat

2 airbags for the front row

Hand brake.
Safety technology to protect passengers and drivers of GL Grandia 2019 in the mid-range
Pros & Cons of new Toyota Grandia
Pros
Modern and compact design

Comfortable interior space

Strong engine

Energy saving
Cons
Key specs of Toyota Hiace Grandia 2019
Toyota Grandia 2019 Verdict
In general, in order to compete better with rivals in the segment, the Japanese car manufacturer has had to improve a lot from the design and operation of the Hiace Grandia to be able to compete with neither Ford Transit or Hyundai Solati.