The Brio is a practical car and does not require a big chunk of money from the buyer's pocket. So let's take a closer look at Honda Brio review here.
Driving is an on-the-go necessity that almost everyone practices. It's an activity that we all have to do daily, especially when we have important things. Aside from that, it's also one of the activities we do to spend time and feel free.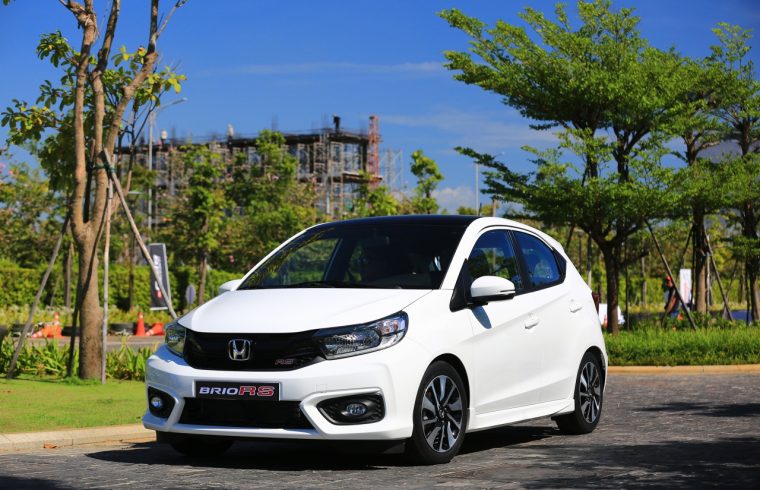 You have to go through many things to ensure that you're safe and comfortable while in a car. With that to say, we shall take a detailed Honda Brio review – one of the most popular cars in the Philippines that has created a whole new segment in its own right.
Honda Brio Specs
Honda Brio Review
Exterior
At first glance, Honda Brio 2022 is more imposing and aggressive than its predecessor, and it's not just because of its color. The Mobilio RS is the Brio's sibling in terms of looks with the dimension of 3815 mm L x 1680 mm W x 1485 mm H. 
The front of the car is equipped with halogen reflector headlamps and fog lamps. Based on the trim level, it will feature either 14-inch steel wheels or 15-inch alloy wheels that add an added touch of style to the overall design of this vehicle.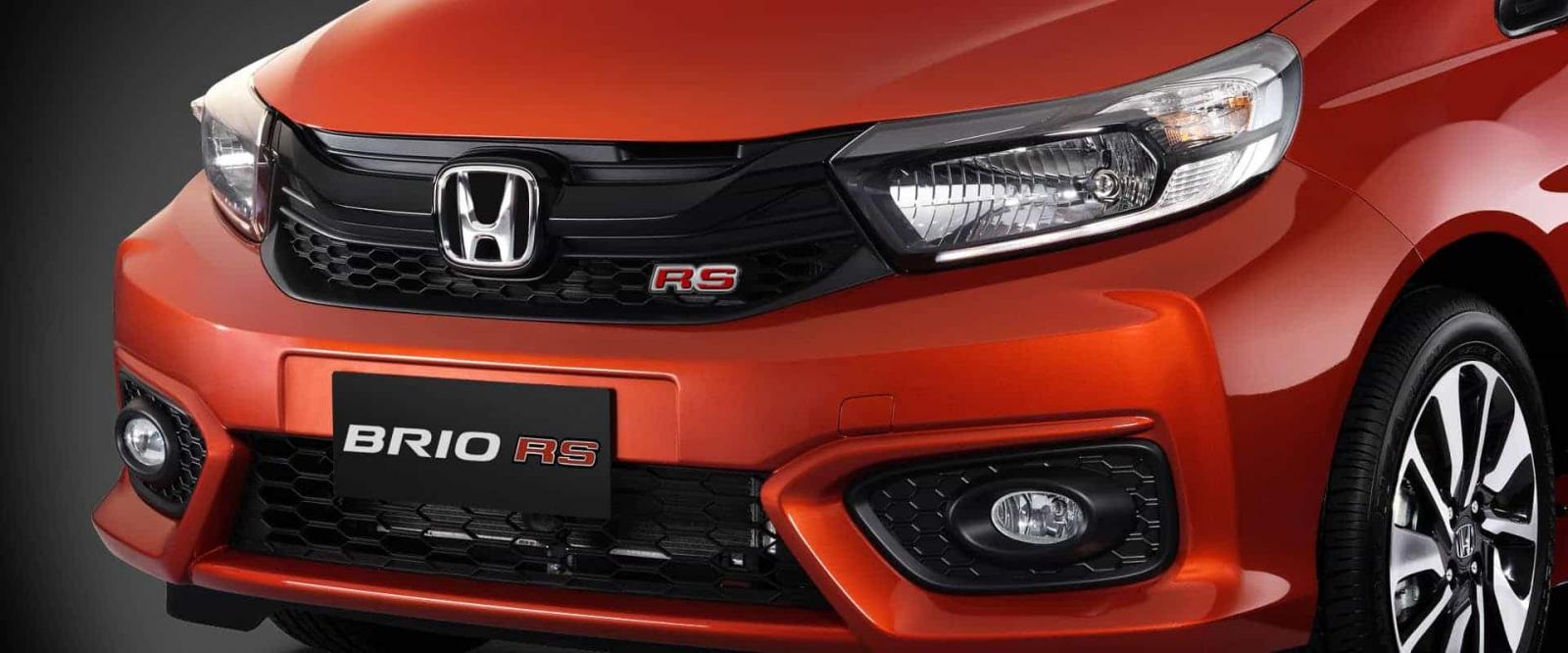 If you opt for the RS Design trim level, the look changes dramatically with a piano gloss black grille and the optional RS Design emblem. Chrome features have been replaced by gloss piano black in contrast to what you would see in other models within this segment. 
At the back of this trim level, there's a stylish rear spoiler and rear diffuser for the rear bumper. The Brio had been toned up from head to toe, making it look sleek and sharp.
Interior
Getting into the Brio, you can find it spacious, especially for its segment. As with previous models in the family, it is also stylish and sporty because of its sweeping dashboard design that keeps similarities with the City, Civic, and Jazz. 
For V variants and up, you can get your seven-inch infotainment system with steering wheel media control buttons to choose your playlist!
The Honda Brio interior boasts four speakers for all trims except the RS, which has a six-speaker setup. The rear seats have plenty of room for adults thanks to the car's wide track width and large windows that offer great visibility.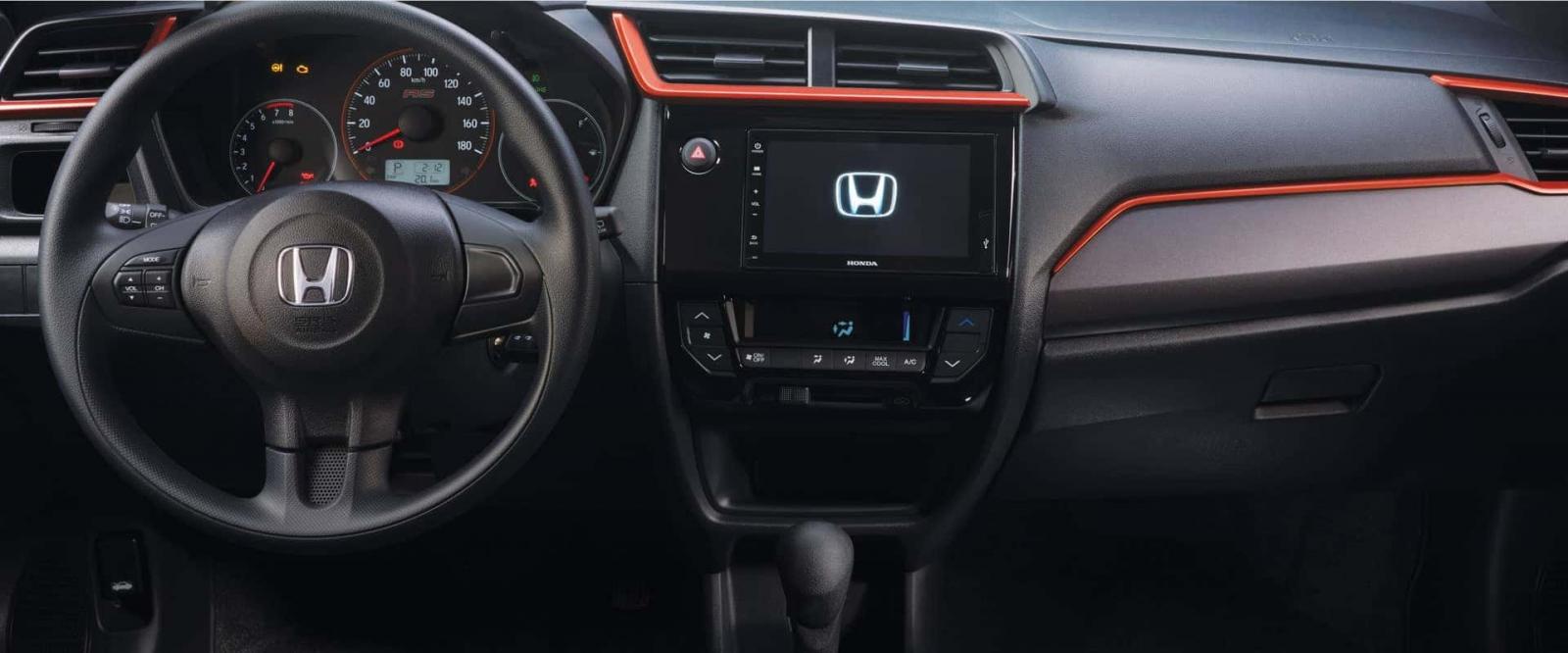 However, headroom will be a sacrifice if you plan on taking tall people with you because it isn't very liberally gifted in this respect. Nevertheless, three adults should still fit up back without fuss - provided they're willing to squeeze together!
Cargo on the Brio is comparable to other hatchbacks in its class, so you don't have to worry about bringing everything but the kitchen sink to load up your off-roading adventures. Packing items into Honda's minivan is pretty much standard procedure as every other car has trays underneath the rear seat that pop out so you can put things out of sight.
Colors
On Honda Brio Colors, this hatchback comes in a variety of neutral, bright colors, of which there are five. All but one come with the Black Top option that colors the roof in a glossy black to add bright colors. 
The exclusive color is Rallye Red, and it's only available for sale on a special variant with both AT and MT. Phoenix Orange Pearl is a second exclusive color since it's only available on the RS variant model.
Fuel Consumption
The hatchback version of the previous model was a lot smoother to drive once they worked on optimizing it. They swapped out the previous automatic transmission for a continuously variable transmission (CVT), which resulted in a significant increase in fuel efficiency, as we can see with our tests. At an average speed of 50 km/h and 30 km/h, Honda Brio fuel consumption is 8 kilometers per liter.
Honda Brio Price
Pros and Cons
Pros
Great look

Quite a strong engine

Offering wide cabin space for a hatchback
Cons
Honda Brio Compared To Other Competitors
Toyota Wigo
At P568,000 for the Toyota Wigo 1.0 E MT, you'll get a model that is about P30,000 cheaper than the Honda Brio's base price of P601,000. If you opt for a higher trim level like the Toyota Wigo TRD-S at P700,000 or even more for various options packages like the one on our test unit (P749,800), it's still almost P30,000 cheaper than the highest version of Brio. In terms of pricing alone, it looks like Toyota wins against its rival in this category.
However, the Honda Brio engine beats Wigo. Specifically, Brio has a 1.2-liter 4-cylinder motor, while the Wigo has a 3-cylinder motor. The former's power is 34 hp more than the latter, and the torque is 21 Nm higher. Its gearbox not only shifts faster but also adds to your fuel efficiency.
If you want a small car that is affordable and efficient, the Toyota Wigo offers customers two years of warranty on its engine plus the benefits of safety features like ABS and EBD. 
On the other hand, if you'd prefer something that lasts longer between fill-ups and has updated electronic equipment, check out the Honda Brio. It brings an ample amount of power output for such a compact vehicle!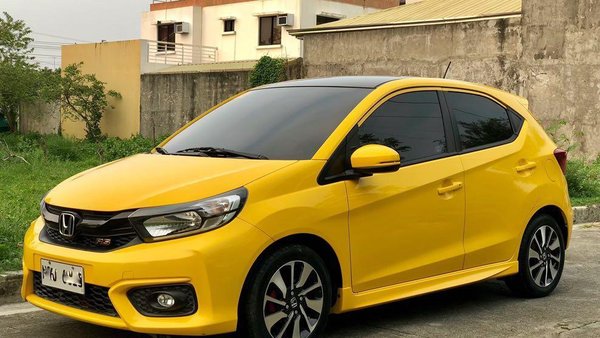 Kia Picanto
The Brio is a charming vehicle. Automotive, it's stylish but not overdone. At P730,000, this price is incredibly fair compared to other cars in the market that you might tire of looking at overtime - even when they're still quite new. But there is also competition in its class as we bring up the Kia Picanto (now at P745,000). 
And there were indeed some close calls and surprises for both cars here. Considering the price point between these two and their comparable features makes us struggle with making this call on which one wins the style and costs race.
Conclusion
We hope you enjoyed our article on Honda Brio review in the Philippines 2022. If you're considering a new car or a pre-owned one, look at Honda. Honda is known for its reliability, quality, and affordability. Brio is a good choice for the whole family, and with the great deals, it's never been a better time to buy, isn't it?
If you want more car related posts, just visit our car review.
Thanks for reading on Philcarreview!