The Honda Brio Amaze 2018 (simply named Amaze) is the second-generation model in the small sedan section of Honda Brio, which first launched in 2014. Let's have a quick look at its review. With a starting price of only ₱651,000 and a range of diesel-CVT features and engines, the model promises to become a familiar name for car lovers in the Philippines.
2018 Honda Amaze: Overview
The all-new 2018 Honda Amaze has just released at the Auto Expo 2018 in India. A very important factor to notice is that the powertrain has been changed. The engine is not completely new but there are improvements in the ability to drive, fuel economy and comfort. Honda has also realized the battle for small sedans has been heating up for the past five years, especially when Maruti Suzuki was very outstanding with its Drize.
The most advanced variant of Amaze is VX, below is V. The CVT and diesel CVT gearbox is only available in the lower V variant and this version also does not have cruise control, touch screen infotainment system (replaced by a traditional 2 DIN single display) and rear camera.
Honda Brio Amaze grows up for its second-gen in 2018
2018 Honda Amaze Price in the Philippines
Retail price of this model in the Philippines in 2018:
By 2020, you can buy this model for P631,000 to P857,000 depending on the variants.
The Indian market is the first place to launch this low-cost model from Honda.
2018 Honda Brio Amaze Exterior: How does it look?
True to the name "Amaze", Honda wants to bring a strong impression right from the first sight of Honda Amaze. At first glance, we can see that it keeps all the sporty and dynamic elements of Brio lines.
Compared to the 2017 model, the frond end looks more upstanding because it is added to the Honda's "Solid Wing Face" grille features a wide headlight. Besides, it developed more aggressive and bolder lines. The roofline is more rakish and joins a sleeker back windshield edge, which is the most striking piece of this 2018 Amaze.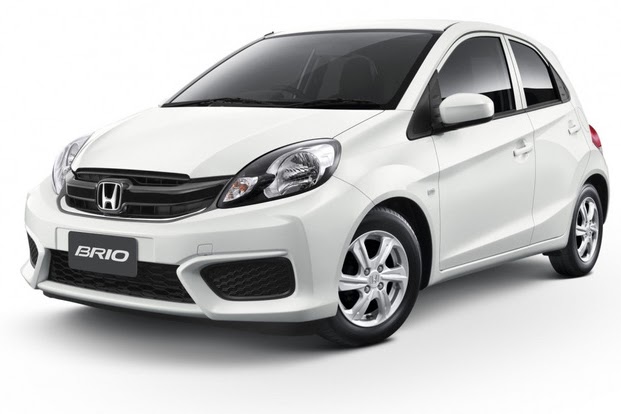 In terms of color, Honda Amaze 2018 has a total of five color options. Of course, Radiant Red and Golder Brown (like Honda City's brown) are outstanding choices. Safer options include White Orchid Pearl, Lunar Silver and Modern Steel.
Honda Amaze 2018 Interior: More luxurious feeling
Honda called the interior design of Amaze 2018 a "Serenity Passion". It is a combination of ruggedness, warm and comfort colors, along with interesting details in the cabin.
The black dashboard and black air conditioning control make the cabin feel wider than it is. The rest of the interior compartment is covered with plastic and fabric, giving a spacious feel. Generally, the dashboard of this 2018 model is redesigned by a less rounded, more angular and grown-up one.  
The large steering wheel design is reminiscent of larger Honda models such as the CR-V/Civic. It also has a large driver information display highlighted by two analog clocks.
Interior design of Honda Amaze 2018 
Honda Amaze 2018 Engine & Performance Review
Like the previous model, Honda Brio Amaze 2018 continues to own two engine options: a 1.2-liter naturally-loaded i-VTEC petrol engine and a four-cylinder turbocharged i-DTEC diesel engine area of ​​1.5 liters. Both engines come with a 5-speed manual gearbox or a CVT automatic transmission.
Honda must accept the reduced performance of diesel engines to be compatible with the CVT gearbox. The power of this engine is reduced by 20 horsepower and maximum torque is reduced by 40Nm. Honda claims that this decrease in performance will make the car easier to drive and not have torque problems like other turbocharged diesel engines are. Amaze with the diesel-CVT combo is also capable of lower fuel economy with 4.2l/100km compared to the diesel-manual transmission with 3.6l/100km
This model has both petrol and diesel engines
The new Honda Amaze is based on a completely upgraded platform that uses tighter steering, which helps reduce weight and increase reliability. The feeling in the driver's seat is one of pure confidence and control to improve the quality of the journey. These changes can be noticed when driving on any surface. Amaze 2018 handles obstacles with the ability to balance well, overcome without creating discomfort.
Honda Amaze 2018 Safety Review
The list of safety equipment is no less with ABS (Anti-lock Braking System), EBD (Electronic Brake-force Distribution), ESP (Electronic Stability Program), double airbags in the front and ISOFIX mounting points are standard equipment of all variants.
Pros & Cons
Pros: 
Design: The 2018 Honda Amaze looks sporty and attractive

CVT gearbox: Honda offered a CVT gearbox with the diesel engine. The petrol variant gets a CVT as well, with optional paddle shifters

Safety system comes standard across all variants of the model

Features a system 7-inch infotainment with Apple CarPlay, Android Auto, and navigation

Responsive 99 bhp diesel motor combined to a manual 5-speed gearbox
This model of Honda has a lot of strengths compared to the price
Cons
The CVT version diesel is underpowered compared to the manual gearbox version (diesel) as it has 20 bhp less (it produces 79 bhp and 160 Nm of torque)

The petrol CVT version has a rubber band effect, thus killing the joy of high-spirited driving  

No paddle shifters on the diesel CVT variant

The CVT variant misses out on the 7-inch touchscreen infotainment system and instead gets a basic music system, with white illumination radio, USB, Bluetooth, and AUX
Key specs of Honda Brio Amaze 2018
Verdict: Why should you buy 2018 Honda Amaze?
The Honda Brio Amaze 2018 has no big difference compared to the old models. However, with the entirely new interior and exterior design and the addition of a CVT automatic in the diesel variant, this model will promise to bring a great driving experience at its price.