Are you looking for an ideal car model for long-distance travel? Ford EcoSport will be the best choice. Let's read this article about the Ford EcoSport review now!
Ford EcoSport quickly became one of the favorite B-class urban compact SUVs thanks to its strong American design, high chassis, compact, powerful engine, airy interior, and "affordable" price. 
With the upgrades in each version, Ford EcoSport can completely compete with other big competitors. Let's read this article about the Ford EcoSport review for more details.
Ford Ecosport Specs
Ford Ecosport Review
Exterior
In the 2022 version, the Ford EcoSport has an overall size of 4096 x 1765 x 1656 (mm) and a wheelbase of 2519 (mm). Compared to the previous version, the wheelbase, ground clearance, and height have narrowed. It helps the model to manage narrow, urban roads easily.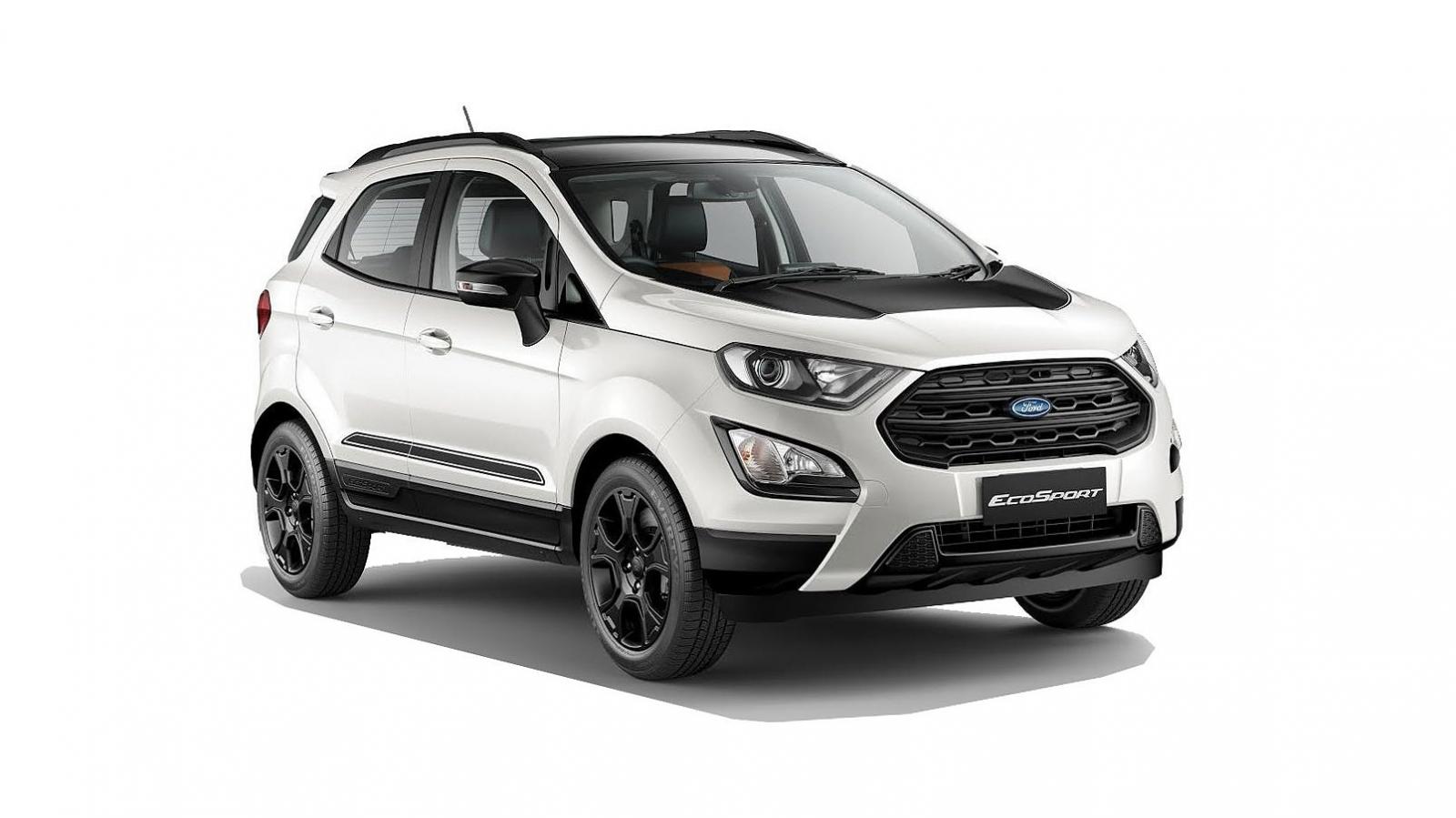 The new Ford Ecosport is designed to highlight the style of a sport utility vehicle SUV. The style is more modern and eye-catching, stronger and more dynamic, aggressive, and sporty. A large air intake cavity with a honeycomb grille combined with Chrome-plated contours looks strong, sporty, and luxurious.
The rear design is in harmony with the front design to help the Ford Ecosport look stronger, stiffer, sportier, and more aggressive. The newly designed spare wheel cover on the outside shows the strong character of the SUV off-road vehicle.
Interior
The Ford EcoSport interior clearly shows high practicality with simple design, spacious and comfortable space, and meeting basic comfort needs.
In the Ford EcoSport 2022 version, customers still have two car seat options, including leather and felt seats. It depends on the customer's version to get the best experience during use. In addition, equipment such as headrests and armrests in the center position is quite convenient.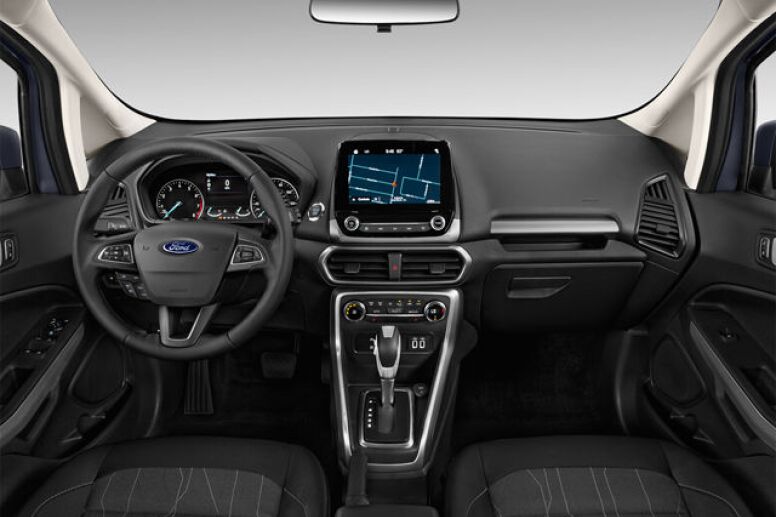 The luggage compartment on Ford EcoSport, according to some information revealed by the company, will still have a capacity of 348L. When fully folding, the rear seats will help increase to 1145L quite conveniently. It will help your family's long trips comfortably in storage.
Engine And Performance
EcoSport 2022 model will be equipped with two engine options for customers, including:
1.0L EcoBoost engine, 12 valves, gasoline engine for a maximum capacity of 120 horsepower, maximum torque of 151 Nm.

1.5L Duratec engine, gasoline, DOHC, 12-valve engine for a maximum capacity of 125 horsepower and maximum torque of 170 Nm.
Combined with a 5-speed manual transmission or a 6-speed automatic transmission, the front-wheel-drive system helps the model have strong and stable performance.
This model still provides more comfortable seating space and does not happen to hit the ceiling. However, the ground clearance is reduced compared to the old version, making the ability to wade through water and overcome rough roads of Ford EcoSport 2022 much more limited.
Equipped with a new 6-speed AT gearbox Torque Converter, this model will also give users a feeling of smooth shifting and is extremely fuel-efficient. According to some information from the manufacturer, the Ford EcoSport fuel consumption is about 5.5 - 6.5L / 100Km depending on the version.
Safety And Technology Features
Ford Ecosport is also equipped with the new SYNC 3 technology. This technology is used on the 8-inch touch screen; the interface is very simple, improving voice recognition compared to the previous version.
With SYNC 3 technology, the driver can use voice commands to call and talk on the phone, select a Radio channel, and choose a song or artist name when listening to music on a USB. But the driver keeps his hands on the wheel and his eyes still on the road ahead. It is very convenient and safe.
Integrated Apple CarPlay and Android Auto, App Link 3.0

8-inch touch screen

Sound system quality 4-7 speakers

Connect USB/ AUX, AM/ FM

Wiper sensor

Start by pushing the button, cooler box
The safety features on the EcoSport 2022 version have been upgraded quite a lot to bring the most peace of mind to customers during use. The model is equipped with features including:
Cruise Control automatic throttle feature

LIM speed limit

Airbag: 2-6 

Anti-lock braking system ABS

Electronic balance, electronic brake force distribution

Support for steep departure

Reverse camera, reverse sensor
Colors
It is expected that the Ford EcoSport colors will have eight exterior options for customers, including White, black, brown, red, silver, copper, steel, and blue. Therefore, customers will be able to choose to suit their preferences best freely.
Ford Ecosport Pros And Cons
Pros
Nice design, high ground clearance, compact

Large, airy interior space, designed with high usability

Powerful engine, smooth and gentle operation

Highly flexible small SUV, suitable for going to town

"Affordable" car prices
Cons
Acceleration is not good at high speed

The car still has a lot of noise

Keeping the design for too long, slow to change
Ford Ecosport Compared To Other Competitors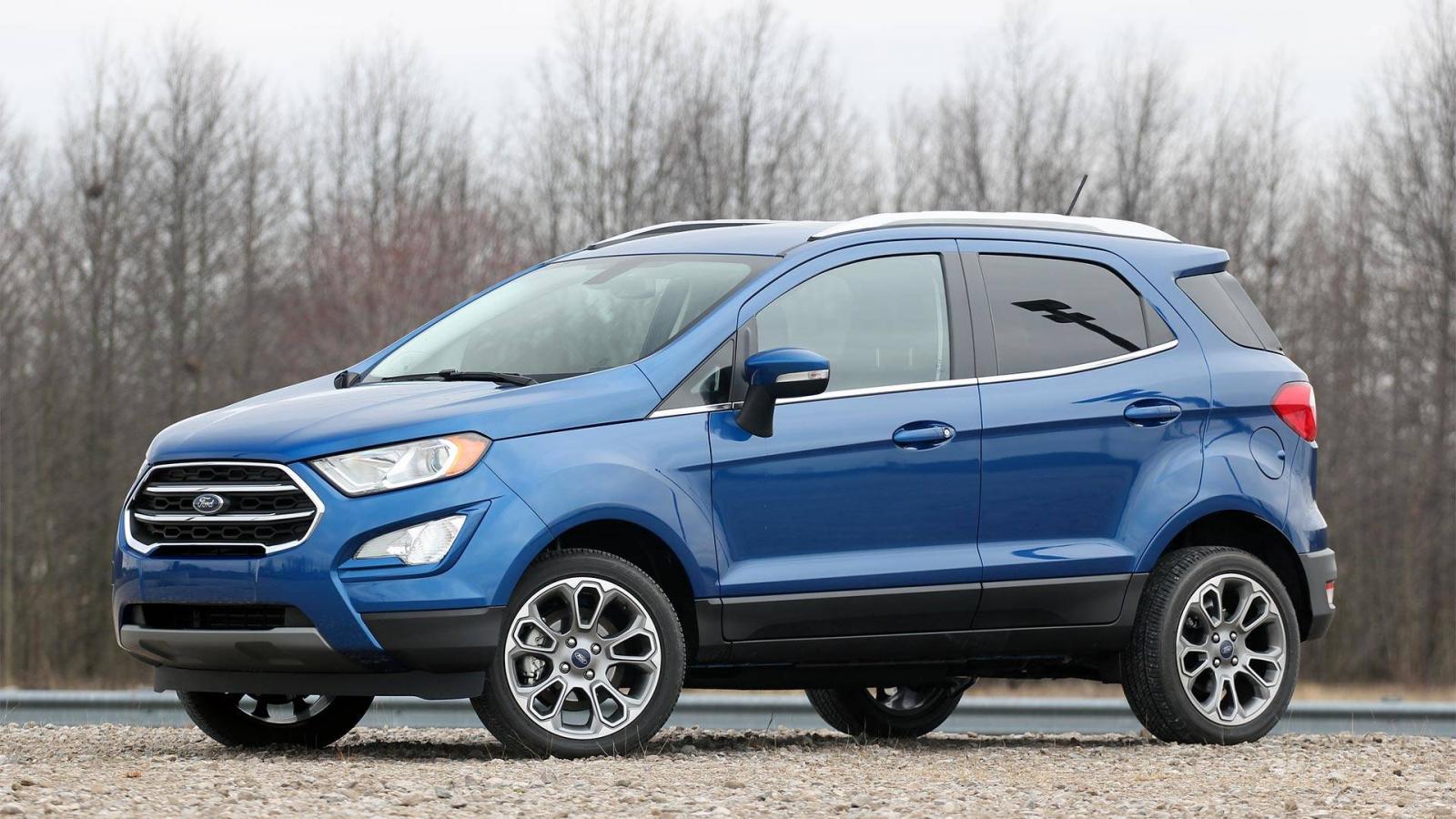 Honda Hr-V
Compared with Ford EcoSport, Honda HR-V is positioned in the higher price segment because the price of HRV is generally quite high. HR-V has the advantage of having a Japanese car origin, which is highly appreciated for its quality and powerful engine.
However, in terms of equipment, the Honda HRV is not too superior to the EcoSport. And especially, EcoSport has a competitive advantage at a more affordable car price.
Hyundai Kona
Before Hyundai Kona, this Korean automaker also launched many products to compete with Ford's EcoSport, such as Hyundai i20 Active or Hyundai Creta. However, until Kona appeared, EcoSport's position was threatened.
Comparing Kona and EcoSport, Kona better balances elements from design to equipment and performance. And EcoSport has a selling price advantage when the price of EcoSport cars is generally lower than the Kona price. American car origin is also a more convincing point for EcoSport.
Conclusion
After reading the Ford EcoSport review, customers can see that this is the most popular small 5-seater car model suitable for everyone. 
Although Ford EcoSport is not outstanding, the compact SUV of the American automaker still has many advantages of its own, especially a good balance of elements from design and equipment to operate in a quite competitive price range.
Thanks for supporting Phil Car Review!