A vehicle that can be used for everyday travel in a compact size, easy to control, along with maximum protection
Ford Fiesta 2018 Overview
According to experts assessing the Ford Fiesta 2018 car, with a beautiful appearance, luxurious interior, exquisite, good connectivity and easy to use, this is a small car option worth the money for those who love the American car brand.
With the entry of a series of rivals from Asia such as Honda City, Kia Rio or Hyundai Accent, the Ford Fiesta is lagging behind the competition. Despite this, the 2018 Ford Fiesta is still highly rated by consumers for its operability, state-of-the-art assist technology and reliable safety features.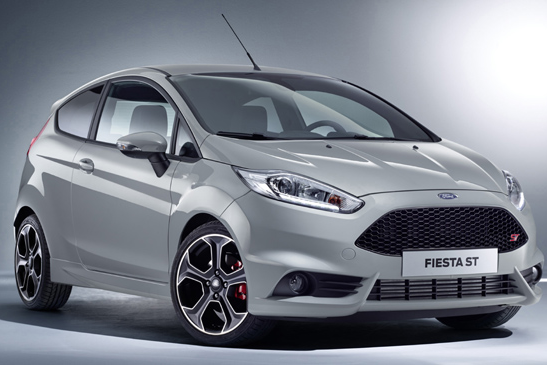 Ford Fiesta is the flagship model of Ford in the European market
2018 Ford Fiesta Price in the Philippines
Entering 2018, Ford Fiesta focuses on the high-end customer segment, buying cars to serve personal or business needs. As a result, Ford stopped offering the manual versions and kept only three automatic versions.
Ford Fiesta 2018 1.5 SPORT A/T

905000 PHP
Ford Fiesta 2018 1.5 TREND A/T

805000 PHP
Ford Fiesta 2018 1.5 TREND M/T

755000 PHP
This model is no longer with production in the Philippines. In 2020, you can find used Fiesta 2018 from 200000 to 900000 PHP.
Ford Fiesta 2018 Exterior Review: Dynamism and Modernity
In terms of overall dimensions, the 2018 Ford Fiesta maintains the same length x width x height as previous versions. On the sedan version, this parameter is 4320 x 1722 x 1489 (mm), respectively, on the hatchback version, length x width x height corresponds to 3892 x 1722 x 1495 (mm). The wheelbase is equivalent to 2489 mm.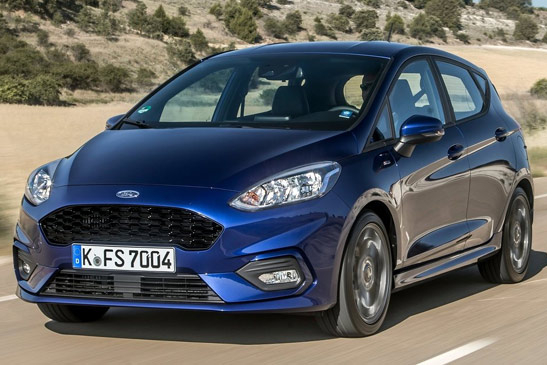 The design of the Ford Fiesta 2018 shows dynamism and modernity. The front of the car makes a strong impression with the trapezoidal grille cluster, the air intakes below the front bumper are also chrome plated to create a highlight for the car.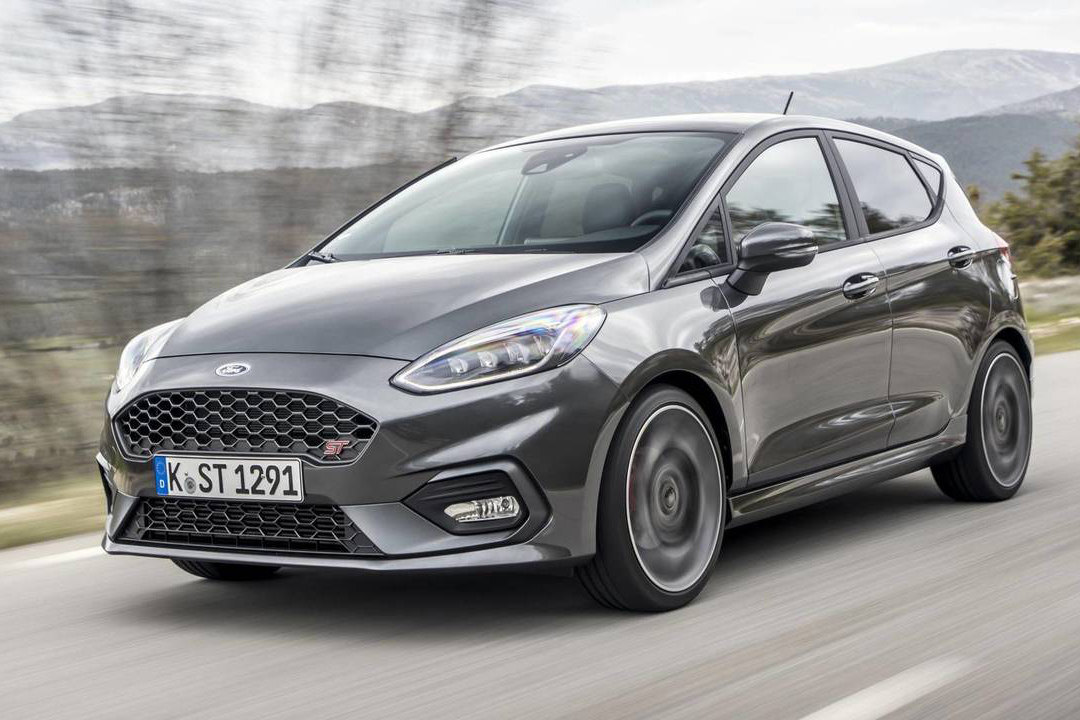 The body of the car with embossed ribs creates angles that make the Ford Fiesta 2018 look cooler. Rearview mirror is equipped with electric control integrated turn signal.
Ford Fiesta 2018 Interior Review: Luxurious style
Right from the launch, Ford Fiesta 2018 interior is highly appreciated for its aesthetics. The first impression is the modernity of the dashboard with a central information screen and dense buttons. This style is similar to the previous luxury cars.
The multi-information screen is placed in a dedicated cavity, limiting glare reflection
Compared to direct rivals Honda City and Honda Jazz, the 2018 Ford Fiesta is much smaller, so it is not difficult to understand when the interiors of both sedans and hatchbacks are smaller. On the other hand, the small size makes Ford's small car easier to move in the inner city as well as move in narrow places.
As mentioned, the compact size makes the Ford Fiesta 2018 interior quite tight. This makes Asian customers who prefer the convenience and spaciousness, not like the interior of this model.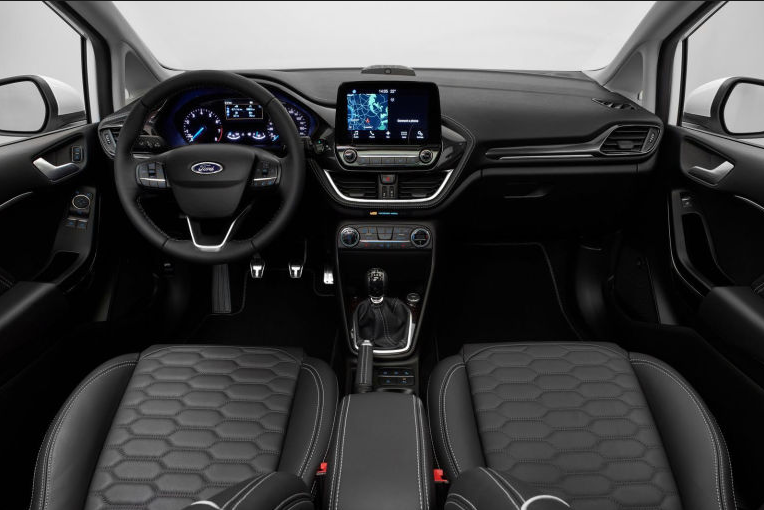 Ford dealers said the car is also equipped with a 1-disc CD entertainment system that can play AM / FM, and integrates the most modern AUX / USB / Bluetooth connectivity ports. It is also equipped with Microsoft's SYNC connection system that supports voice control. Comes with entertainment system is the sound system 4 front speakers and 2 rear coaxial speakers for optimal entertainment quality.
Engine & Performance of 2018 Fiesta
Ford Fiesta 2018 is equipped with a quite powerful operating configuration compared to the common ground in the segment. The two versions of the Fiesta 1.5L Titanium and Fiesta 1.5L Sport are equipped with a 1.5L Ti-VCT Duratec 4-cylinder inline valve with 16 valves, using multi-point electronic fuel injection technology for a maximum capacity of 110 horsepower at 6300 rpm and maximum torque of 140Nm at 4400 rpm.

2018 Ford Fiesta Engine
The most advanced Fiesta 1.0L Sport + is powered by a 12-liter inline 12-cylinder Ecoboost 3-cylinder petrol engine, combining turbocharger with direct fuel injection, for a maximum capacity of 123 horsepower at 6000 rpm and maximum torque of 170Nm from 1400 - 4500 rpm. This engine is by far the most powerful engine in its segment.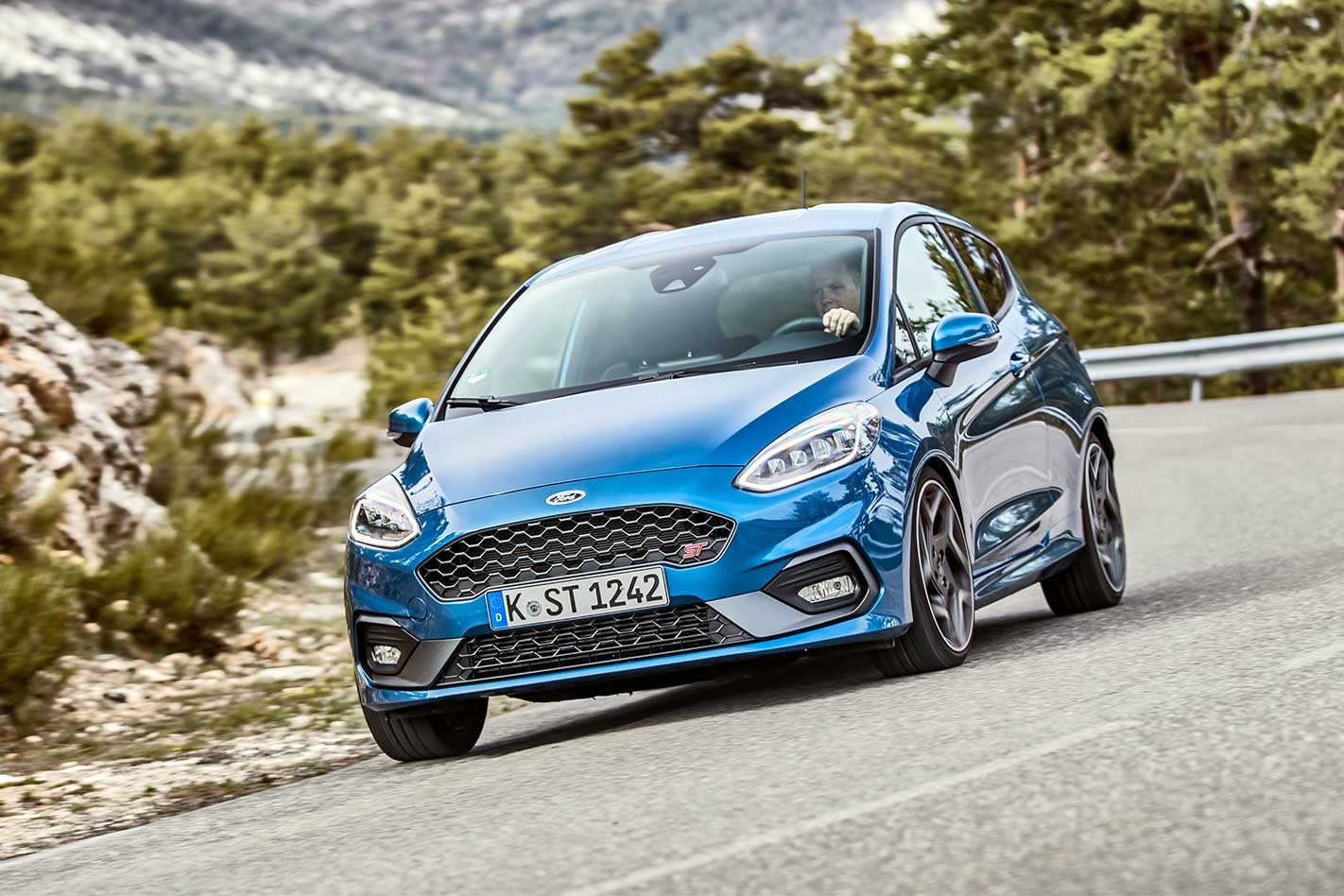 In addition, the Ford EcoMode function also supports assessing fuel-saving driving skills, helping to go further and save more fuel, similar to Eco Coaching on Honda models.
What are safety features on the 2018 Fiesta?
On the 2018 version, Ford Fiesta is equipped with the highest safety system for all three versions, in order to continue the value that has made the brand of this model. Safety equipment includes:
ABS anti-lock braking system

EBD electronic brake force distribution system

EBA emergency brake assist

HLA hill launch assist

ESP Electronic balance system 

Backward sensor

Anti-theft system

7 airbags

Automatic early-seat belt safety system and automatic loosen for the driver's seat
Pros & Cons of 2018 Ford Fiesta
Pros
Cons
Key Specs of 2018 Ford Fiesta
Specs

Most Popular

SE 4dr Sedan

1.6L 4cyl 5M

SE 4dr Hatchback

1.6L 4cyl 5M

S 4dr Sedan

1.6L 4cyl 5M

Engine Type

 
 Gas
Gas 
Gas 
 

Transmission

 

5-speed manual

 

5-speed manual

 

5-speed manual

 

Drive Type

 

Front wheel drive

 

Front wheel drive

 

Front wheel drive

 

Cylinders

 

Inline 4

 

Inline 4

 

Inline 4

 

Combined MPG

 30
30
30 
 

Total Seating

5 
 5
5
 

Basic Warranty

 

3 yr./ 36000 mi.

 

3 yr./ 36000 mi.

 

3 yr./ 36000 mi.
Verdict: A good choice worth the money
The new generation Ford Fiesta 2018 has a beautiful appearance, luxurious interior, exquisite, good connectivity and easy to use. It's not the most spacious supermini or the best cabin quality, but still a good value option for those who love the Ford brand. This is a vehicle that is worth considering for those who are looking for a car for personal or family needs.
With all the core values of performance and safety equipment, the Ford Fiesta 2018 is still a good quality car in its segment.