Are you wondering if Ford Ecosport is a reliable car to invest in? This Ford Ecosport review will give you the answer in detail regarding its interior and price. Let's check it out!
1. Ford Ecosport Interior: Technology
Although Ford Ecosport has come up with five variants, only Titanium AT versions are superior. We can say that manufacturers equipped these variants with better features than the rest. As a result, the Titanium AT version offers more giant instrument cluster display screens with 4,2 inches, while the other three variants offer smaller display screens with 2,3 inches. Besides, the cars are equipped with 8 inches color and responsive touchscreen. Nowadays, the Ford Ecosport is said to bring the best infotainment screen to the automotive market.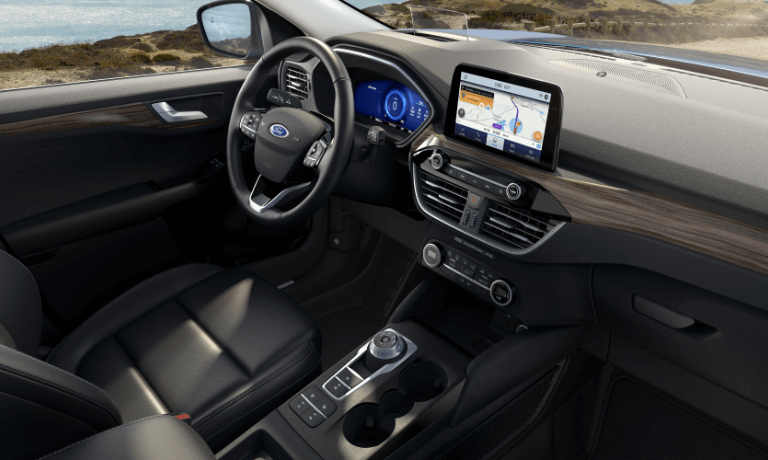 The urban look in the interior of Ford Ecosport 2020
Drivers can easily connect with the Titanium AT variants via phone using Android Auto and Apple CarPlay. On the other hand, the Trend variants and the Ambiente variant are pickier, as they are suitable with Bluetooth only. We also noticed that the Ford manufacturer wanted to create a wide range of options for customers to choose from. If you want a car with seven speakers, then take the Titanium variants. Because the rest variants only provide four speakers. Also, only 1,0 litter Titanium provides users a satellite navigation regime. Fortunately, all variants of this model have the audio function with its control installed inside.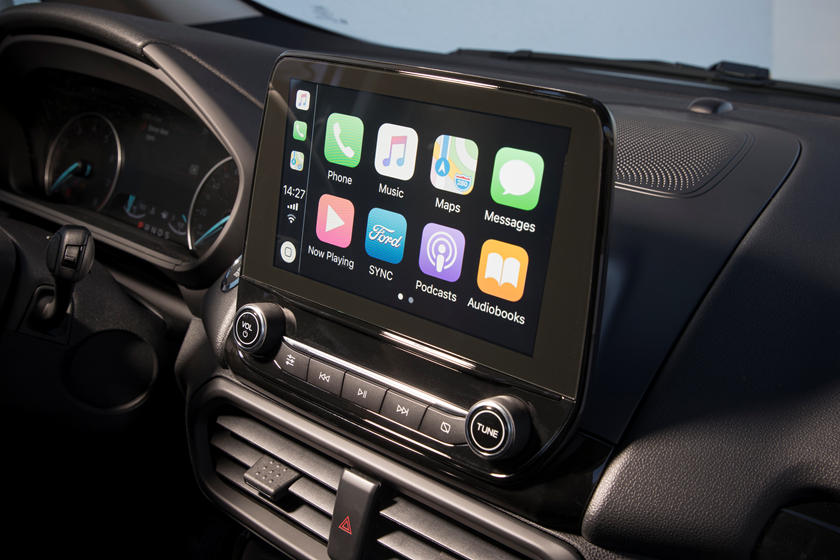 >>> Also read: Top 4 city cars under P1.1 million in the Philippines
2. Ford Ecosport Interior: Seating
Seats are one of the most critical features of cars as it brings comfort to drivers while driving. In this part, we will tell you how the interior of Ford Ecosport, as well as seat designs, create much comfort for drivers and passengers. 
All Ecosport variants are five-seat cars. Besides, their exterior is average for a crossover as they are 4.325 mm in length, 1.656mm in height, and 1.765mm in width. Drivers won't be disappointed because the ground clearance (209 mm) gives them good visibility while driving.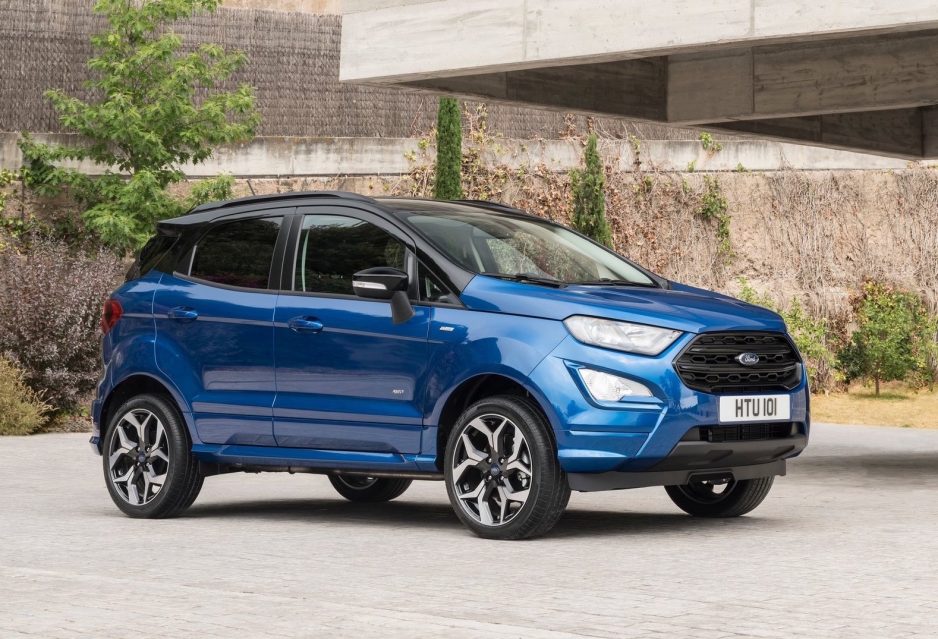 Now, let's talk about the driver's seat, which is the most concerning feature to all drivers, especially those who often use cars for long-drive. Depending on body features, and driving habits, drivers can choose an eight-way adjustment of Titanium, a six-way adjustment of Trend, or a four-way adjustment of Ambiente. These are manual adjustments. Passenger's seats come up with four-way manual adjustment. Many buyers might be concerned about the split-folding rear seats with child seat anchors of Ford Ecosport. However, it would be fine as long as they don't consider interior space their top priority when buying the car.
>>> Related reviews:
3. Ford Ecosport Interior: Other cool features
In a closer look, we will tell you other great features of Ford Ecosport. Firstly, all Ford Ecosport versions provide compartment lamps that help light up every corner within the car. Secondly, the tilt and telescopic steering wheel help increase the safety of the vehicle. And other great features are power door locks, a cooled glove box, and a sun visor-covered vanity mirror. Ford assures customers' safety by equipping their cars with protecting interiors as a seatbelt reminder system, rear park assist (except for the Ambiente style), child-proof door locks, rearview camera.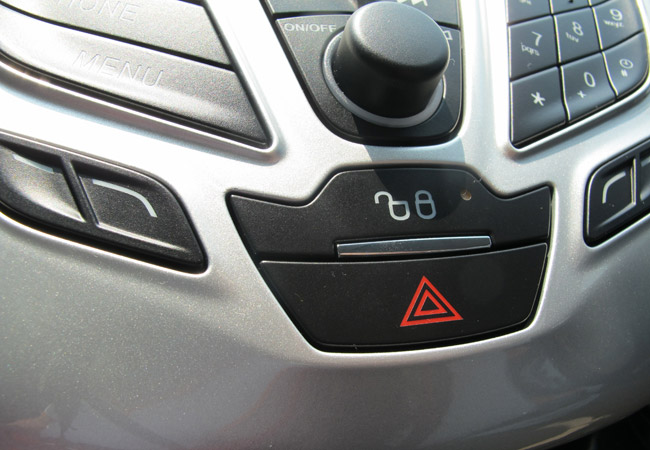 4 Ford Ecosport Interior: Is It Worth It?
The Ford Ecosport 2020 is the newest updated variant for the customers to choose from. From our view, instead of buying a new SUV, customers can pick up a used Ford Ecosport 2020. Because of similar functions, but at a more affordable price. Although the car's dimension reduces the comfort of tall passengers, its cargo capacity surprisingly satisfies users. This car also stands out for high safety, and experts have estimated it as the "Top Safety Pick Plus" vehicle.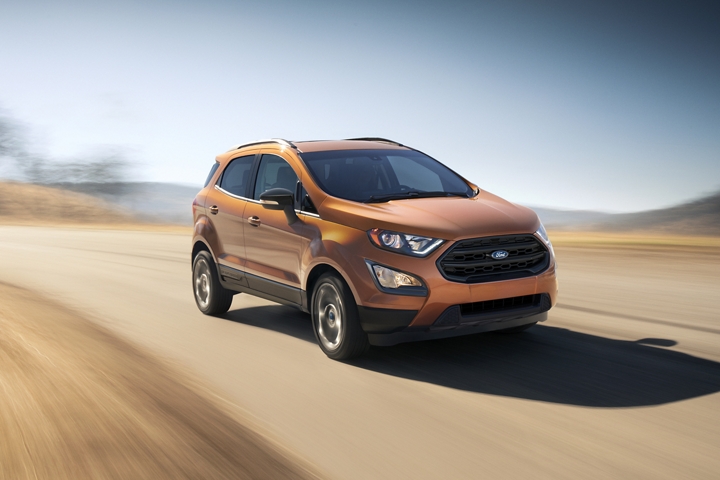 Ford Ecosport Price Philippines 
After passing all variant features of Ford Ecosport, it is time for you to glance at their price. Below are prices offered by Ford manufacturer:
Ford Ecosport 1.0 EcoBoost Titanium AT: PHP 1,190,000 
Ford Ecosport 1,5 Titanium AT: PHP 1,100,000 
Ford Ecosport 1.5 Trend AT: PHP 1,030,000 
Ford Ecosport 1.5 Trend MT: PHP 970,000 
Ford Ecosport 1.5 Ambiente MT: PHP 920,000 
Choose the one that is more suitable for your budget and demand! 
5. The Bottom Line
Hopefully, this Ford Ecosport interior review has given you an overview of this urban five-seat car. It is not just about the comfort while driving, but also about the high safety that the vehicle can assure its owners. It is time to experience this car by yourself, and let us know what you think! 
>>> Visit Philcarreview.com for more comprehensive reviews of all car models in the Philippines!