With a strong design, good performance and competitive price, it can be confirmed that the 2017 Isuzu D-max is not inferior to other competitors in the same segment.
1. Isuzu D-Max 2017 Philippines: Overview
The Isuzu Dmax vehicle quickly conquered all rankings and became the best-selling pickup truck on the Philippines market since its launch in 2005. Although it has to compete with many strong rivals like Ford or Toyota, the Isuzu car manufacturer showed no hesitation. Each Isuzu Dmax model was born with new improvements that are more beautiful, stronger and more impressive than the old version. According to Isuzu Dmax 2017 evaluation from experts, this will be a perfect choice for customers.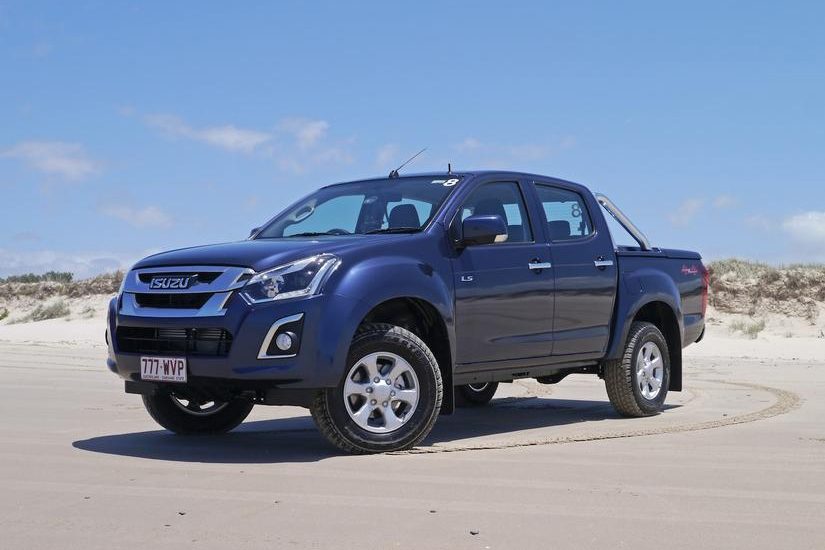 2. Why should people buy the 2017 Isuzu D-Max?
One thing to be sure of is that with great off-road capability thanks to the powerful engine, strong four-wheel drive transmission and plenty of pulling power from its 3.0-liter turbo diesel four-cylinder that produces 130kW and 430Nm. Although there are still newer options with many of the latest features and technologies, the D-Max still handles well thanks to streamlined suspension, light steering and standard brakes.
The cabin of the car is modest but spacious enough accompanied by 8.0-inch color touch screen and Bluetooth connectivity. Isuzu also offers an extensive array of factory options letting customers customize the D-Max to suit various needs, and our test car was fitted with a nicely integrated bull bar and snorkel while the tray had a tub liner, sports bar and soft tonneau cover.
3. Isuzu D-Max 2017 Philippines: Price & Variants available
Isuzu D-Max 2017 Philippines Pricelist
| | |
| --- | --- |
| D-Max 3.0L LS 4x2 M/T | PhP 1,140,000 |
| D-Max 3.0L LS 4x4 M/T | PhP 1,450,000 |
| D-Max 3.0L LS 4x2 A/T  | PhP 1,210,000 |
| D-Max 3.0L LS 4x4 A/T | PhP 1,520,000 |
4. What's missing from the features?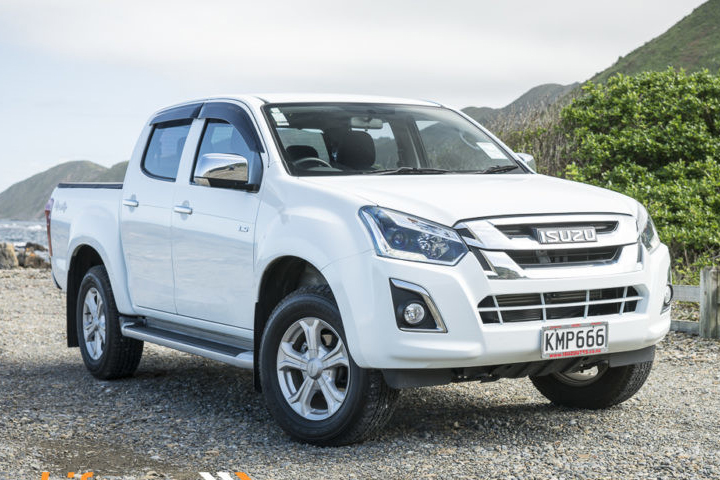 At PhP 1,140,000 (plus on-roads) before you tick an alternatives box, the 2017 D-max isn't the most affordable car similar rivals such as the Ford Ranger and Toyota HiLux. The cabin is somewhat boring, the large circular air conditioning control in the center of the dash looks odd and the multimedia screen designs are old-school. The materials are generally hard plastics and the leather-like seat trim isn't as plush as some others.
The six-speed automatic, while smooth in the manner in which it shifts, chases through the gears while driving up hills at cruising speeds and the engine is noisy when the revs build.
5. 2017 Isuzu D-Max Highlights
Exterior
Overall, the 2017 Isuzu Dmax car is designed with a youthful and dynamic style. The front is the pickup-style lines, the radiator with 2 large chrome bars and shiny colors, accompanied by a brand logo in the center of a modern style. Next to the grille is the spherical lens headlight system, a very unique fog lamp cluster that is placed underneath skillfully, it ensures a luminous function to assist the driver to drive conveniently when driving.
From the top of the Isuzu Dmax vehicle backward with a taller design, this is a way to ensure a smoother ride for the driver when driving, while minimizing fuel consumption to the maximum. The new generation Isuzu Dmax 2017 with 5 options with different sizes, 2 options 2.5L (4x2) MT and 2.5L (4x2) AT has length x width x height respectively 5295 x 1860 x 1785 mm, the other 3 options are 5295 x 1860 x 1795 mm, the same wheelbase is 3095 mm.
Judging by Isuzu Dmax 2017 compared to the 2017 Hilux in size, it is somewhat smaller, but this also does not affect the performance of the car. The rear of the Isuzu Dmax 2017 is quite square, making people feel stronger and stronger. In addition to the generous dimensions for all versions, this new Isuzu model promises to show off its excellent carrying capacity without any comparable vehicle.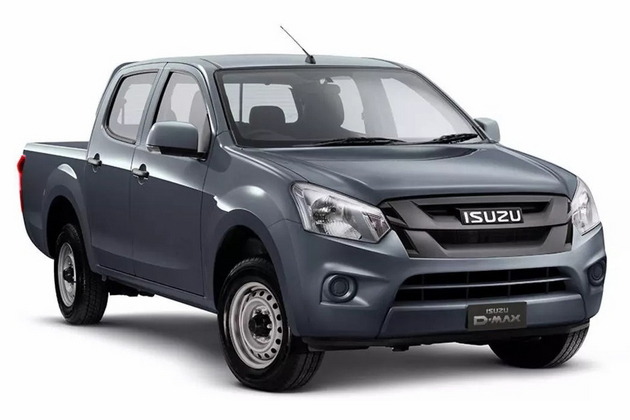 Dimensions
Isuzu D-Max 2017​ Philippines Dimensions
| | |
| --- | --- |
| Length | 5295 mm |
| Width | 1860 mm |
| Height | 1785 mm |
| Wheelbase | 3095 mm |
Performance
The 2017 Isuzu D-max retains two 2.5-liter and 3.0-liter VGS turbocharged diesel engines similar to its predecessors D-max LS and D-max Type X. In particular, the turbocharged diesel engine The 2.5-liter VGS turbo produces 134 hp at 3,600 rpm, 320 Nm of torque at 1,800 - 2,800 rpm.
3.0 liter VGS turbocharged diesel engine for up to 161 hp, maximum torque of 380 Nm. Both engine options on the D-max Type Z are paired with a manual gearbox, or a 5-speed automatic transmission with 2 × 4-wheel drive system.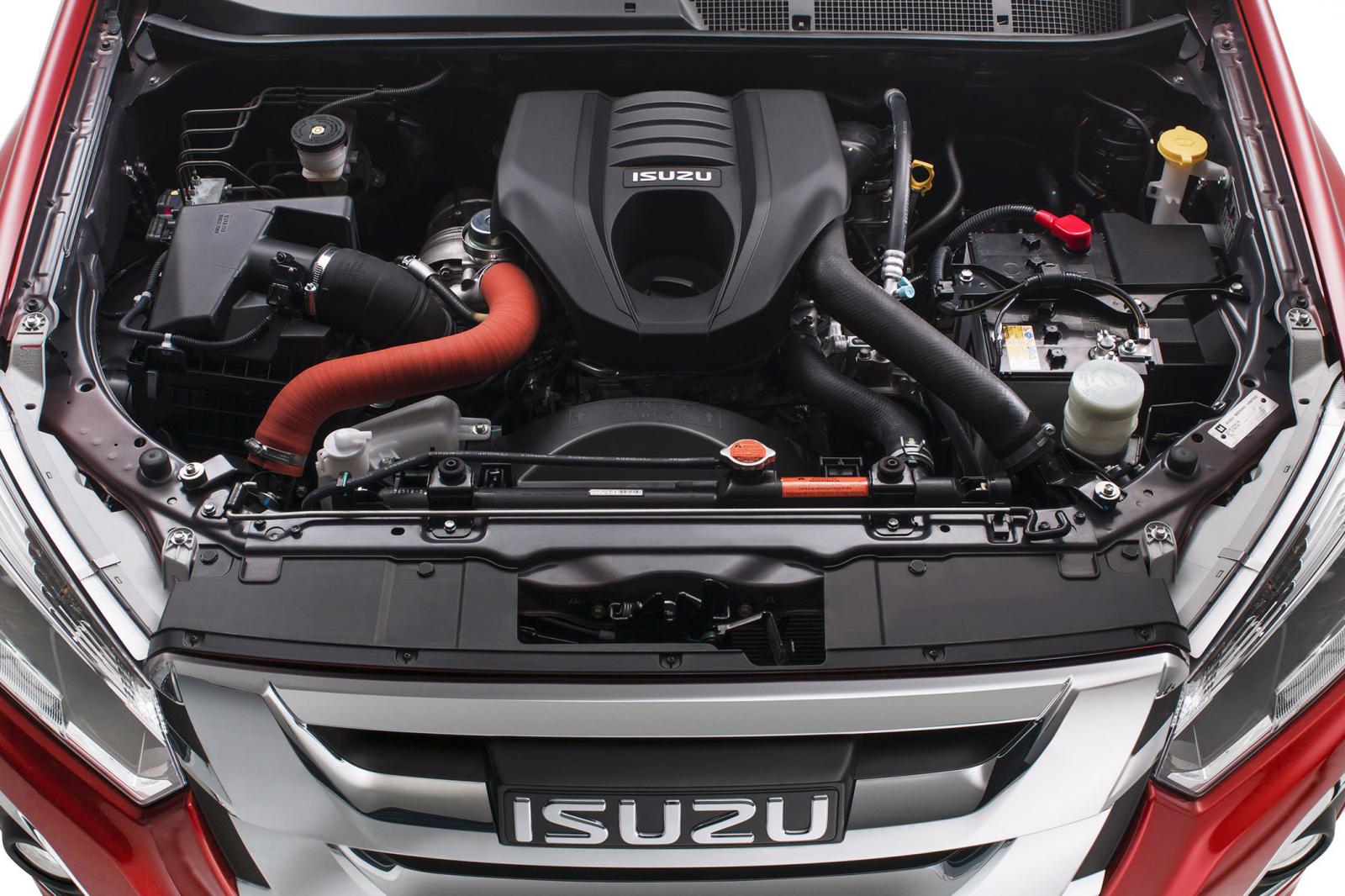 Engine of the 2017 D-max
Those who have had the opportunity to experience firsthand evaluate Isuzu Dmax 2017 more than competitors. Advanced leather steering wheel brings a smooth, smooth feeling, integrated audio controls and create favorable conditions for the person holding the steering wheel. In order to maintain a safe speed without causing fatigue for the driver, the automaker also decided to install Cruise Control system, from which the car saves maximum fuel resources. 
Isuzu D-Max 2017​ Philippines: Engine & Performance
| | |
| --- | --- |
| Max Torque | 430Nm @ 2000-2200rpm |
| Transmission | 6-speed automatic |
| Fuel economy | 7.7L/100km |
| Engine | 2999cc 4cyl, DOHC, turbo-diesel |
Comfort features
For the interior, the seats of all versions are leather and 6-way power driver's seat. The rear seat space is larger than 25mm and the seat angle extends to 24 degrees, the middle seat can be pulled down as a backrest. Taplo watch with multi-information display and maintenance reminder function, 3-spoke leather-wrapped steering wheel with integrated audio control buttons, electric windows, central door lock and one-zone automatic air conditioning. In addition, the car is also equipped with a DVD player with 7-inch touch screen, Bluetooth / USB / AUX connectivity and 6-speaker audio system.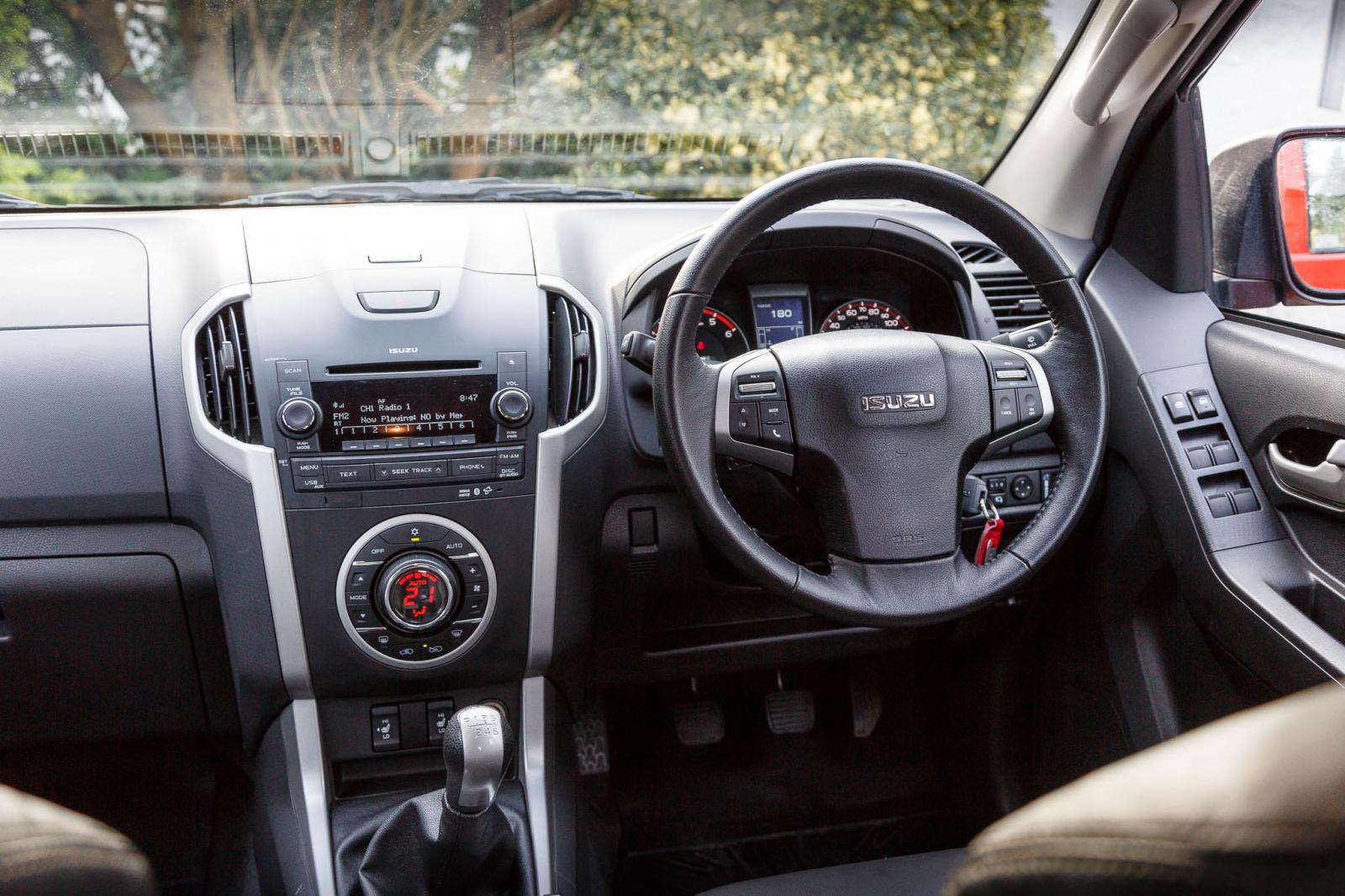 Isuzu D-Max 2017​ Review: Comfort Features
Dual Front Airbags Package
Air Conditioning
Bluetooth Connectivity
Cup Holders - Front Seats
Multi Function Display
7-inch touch screen DVD Player
Power Steering
6 Speakers
Safety features
Regarding safety comfort, many people assess that the 2017 Isuzu D-max only possesses a standard safety system: the side impact resistant bars, the automatic door locking feature, the anti-lock braking system. ABS, EBD electronic brake force distribution, BA emergency brake assist and 2 front airbags. Particularly, version 3.0 is equipped with anti-slip differential and reversing camera.
Isuzu D-Max 2017​ Review: Safety Features
Anti-lock Braking System (ABS)
Electronic Brakeforce Distribution (EBD)
Emergency Brake Assist
Dual Front Airbags Package
Reversing Camera (additional feature)
6. Final recommendation: Decide whether to buy a Isuzu D-Max 2017?
There is nothing to complain too much about the 2017 D-max, and it certainly deserves consideration when Isuzu offers a lot of incentives for buyers and guarantees reliability. However, better alternatives that offer more features that you might consider such as the Ford Ranger or Toyota Hilux.