2018 Suzuki Ertiga derives from modern small car structures, giving it an impact in terms of safety, interior packaging and handling.
1. Suzuki Ertiga 2018 Overview
Suzuki Ertiga has been released in the Philippines for the first time since 2014. This subcompact MPV nicely bridged the gap between the more commercial APV van and Suzuki's compact car lineup.
There is a range of strong points for this model that you may concern about, including big interior, pleasant styling, fuel efficiency and many comfort features. All these features help 2018 Ertiga to face the tough competition from other strong rivals such as the Toyota Rush and Honda Mobilio.
Keep scrolling the Suzuki Ertiga 2018 depth review by Philcarreview.com so that you could gain a comprehensive overview of this stylish 7-seater.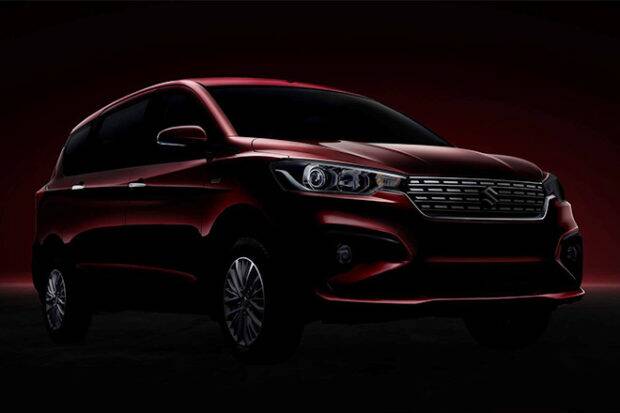 2. Suzuki Ertiga 2018: Price in the Philippines
Suzuki Ertiga 2018 Philippines Pricelist
3. Exterior Review: How does Suzuki Ertiga 2018 look?
While it is based on the lightweight subcompact hatchback Swift, the Ertiga is far bigger at 4.265 mm x 1.695 mm x 1.685 mm. The tall roofline also makes it possible to have a spacious interior. It has earned some trendy updates and more brightwork which brings up-to-date appearance.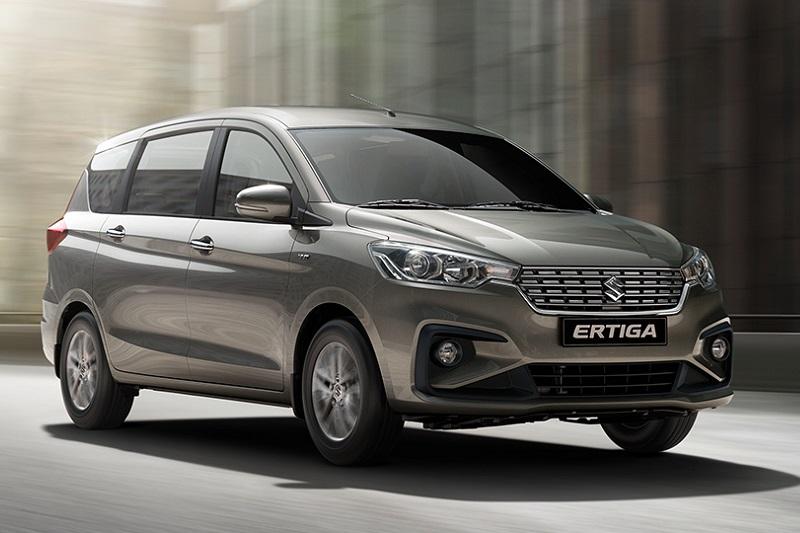 The tall roofline makes 2018 Ertiga having a spacious interior
Comparing it to its competitors, the Ertiga has a basic but elegant look, showered with just the right amount of chrome, resulting in its youthful style despite being an MPV. The front grille has been improved, the headlights are used as projector headlights.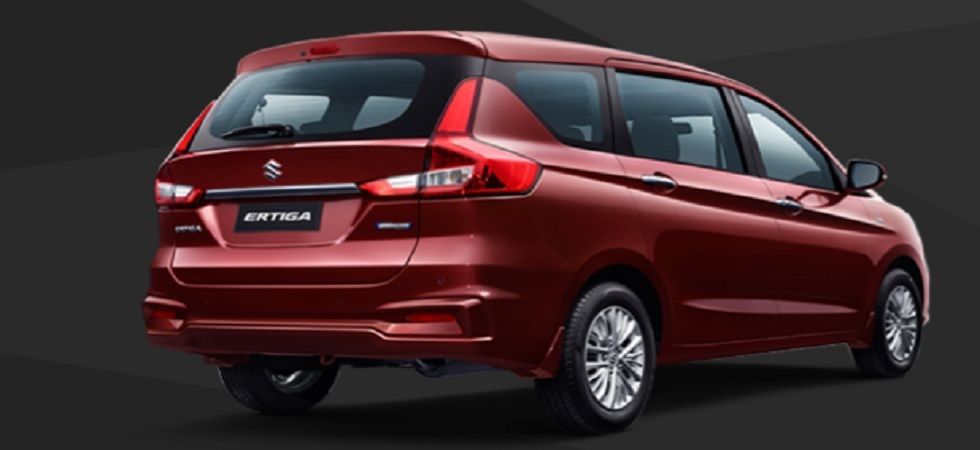 4. Engine & Performance of 2018 Suzuki Ertiga
This MPV is powered by a 1.4-liter DOHC inline-four VVT engine, producing 95hp and 130Nm of torque. If you brush off such numbers as insufficient, you do need to note that Ertiga happens to be a light vehicle because of its size. At between 1,155 kg and 1,185 kg, it weighs just slightly more than a standard sub-compact sedan.
Either a 5-speed manual transmission or a 4-speed automatic transmission is standard. Based on our test, we managed to achieve an average of 10.7 km / L in combined roads driving the 2018 Ertiga automatic transmission. This car is a good option for those who do regular grocery or go to work.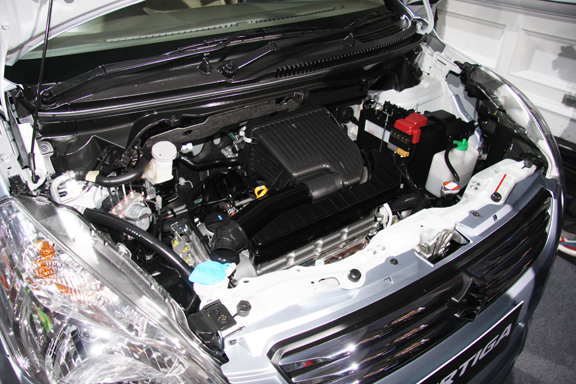 2018 Suzuki Ertiga is generated by a 1.4-liter DOHC in-line four VVT engine
5. Interior Review: What's new inside Suzuki Ertiga 2018?
Although the 2018 Ertiga is limited on performance, it manages to snap back with its ride comfort and interior conveniences.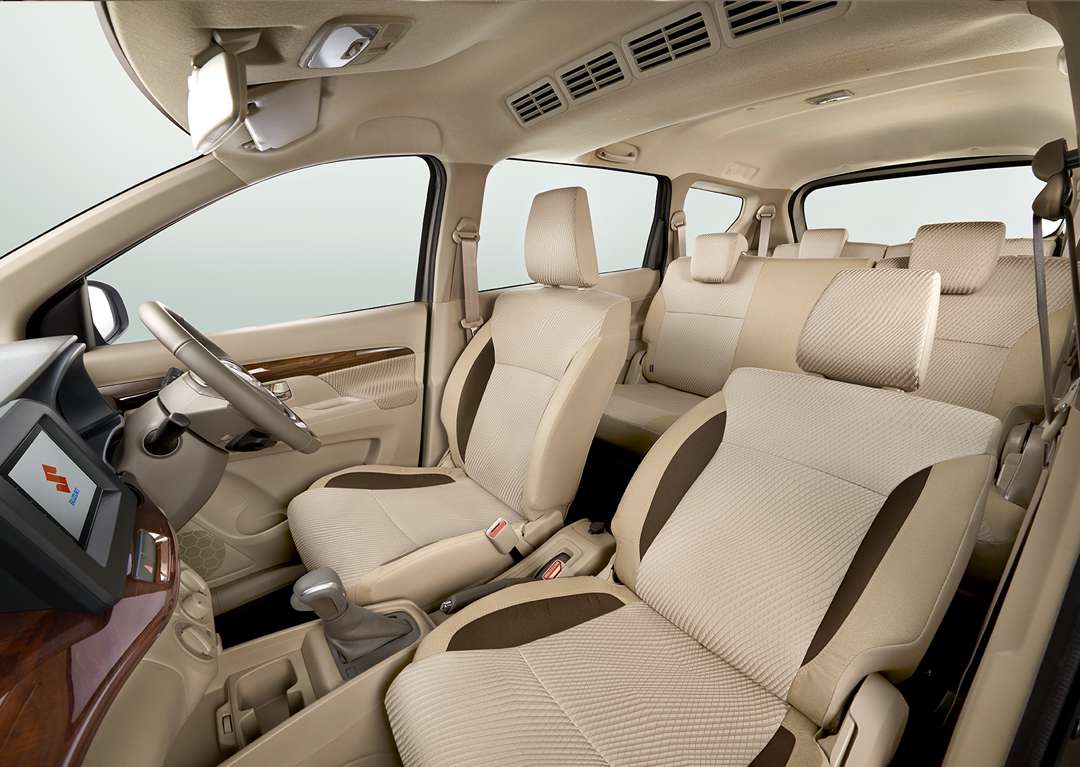 The Ertiga has a spacious interior
The Ertiga has a large interior that can fit up to seven or five people with extra space for luggage. As for its cargo capacity, the rear provides 135L with an upright third row. 
The row seats can be lying down and can also slide forward to give the rearmost occupants more legroom. The 50:50 split-folding third-row seats allow the cargo room to be extended to 736L.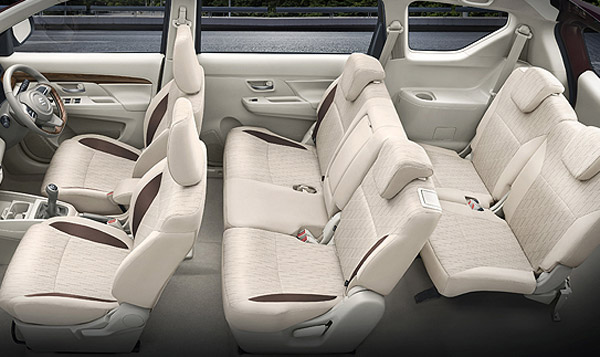 The 2nd row can slide and fold 60:40, 3rd row can fold 50:50
The steering wheel and dashboard of the 2018 Suzuki Ertiga are identical to the Swift sedan. The cabin of the specific GLX variant is covered with light brown and gray plastic panels, while the seats are wrapped in fabric covers. Admit that it's not the most elegant interior, but also not a big problem.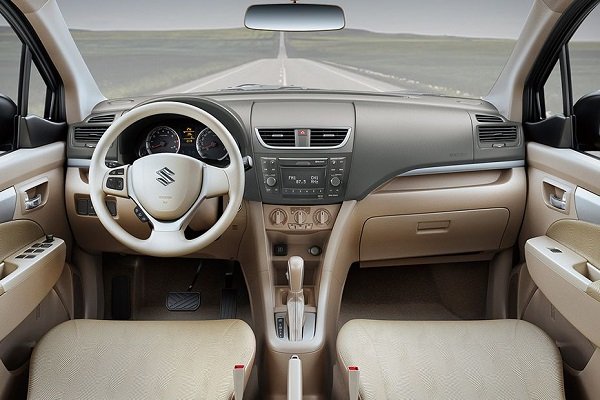 For entertainment features, Ertiga has an Android four-speaker head unit with Bluetooth connectivity that can be adjusted via steering wheel controls. It also has online navigation for those who have issues with directions. These features are definitely plus point, particularly if you have children with you because you don't have to take your eyes off the road. Even so, multi-device charging can be an issue because 2018 Ertiga only has one USB port.​​
6. 2018 Suzuki Ertiga Safety Review
In terms of safety technology, all Suzuki Ertiga 2018 variants come with dual front airbags and childproof rear door locks. The top of the range GLX model is integrated with additional safety features such as Anti-Lock Braking System (ABS) with Electronic Brakeforce Distribution (EBD) and rear parking sensors.
7. Key Specs of Suzuki Ertiga 2018 Philippines
8. Verdict: The most affordable top-of-the-line MPV on the market
By far, the 2018 Suzuki Ertiga is a good MPV. The youthful yet trendy exterior looks and the ride convenience have persuaded many car lovers in the Philippines. While the materials used in the cabin are a little let down, we can't neglect that this is the most affordable top-of-the-line MPV on the market today at just from P699,000.