The Mazda CX-9 2019 Philippines is a 3-row SUV with dashing looks together with powerful performance. Read on to find out!
Mazda CX-9 2019 in the Philippines is a large 7-seater crossover with a luxurious design and the preparation of dozens of items inside. Thanks to its impressive debut, Filipino car lovers expected Mazda CX-9 2019 to create many bright spots in its sales. Let's see some reviews of its aspects, and then you can make up your mind to purchase. 
Mazda CX-9 2019 Philippines: Exterior
Compared with other competitors on the market, the CX-9 is one of the best-looking midsize crossovers. The car follows the KODO design language that can be gathered from the single character row of the crossover SUV, extending along its length, with a smooth body shape and air intake grille.
The FWD Sport Touring version is equipped with 18-inch wheels, while the AWD Signature series version uses 20-inch alloys. Besides, there is not much difference in appearance between the two.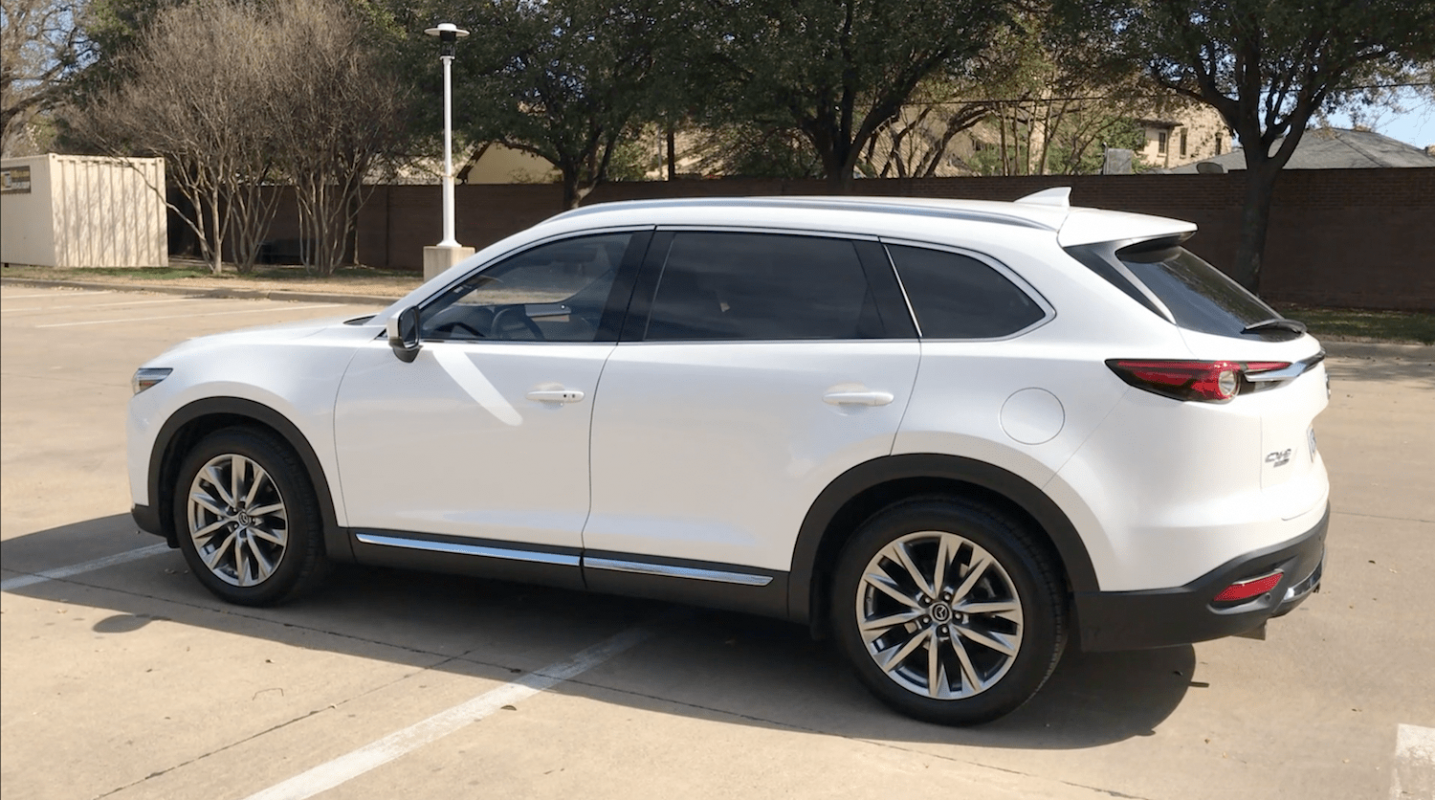 The new Mazda has considerable road capacity, with a length of 5075 mm, a width of 1960 mm, a height of 1716 mm, and a curb weight of 1908 kg. It's already heavy. However, the powerful engine of the CX-9 is not a problem, but there will be more in the future.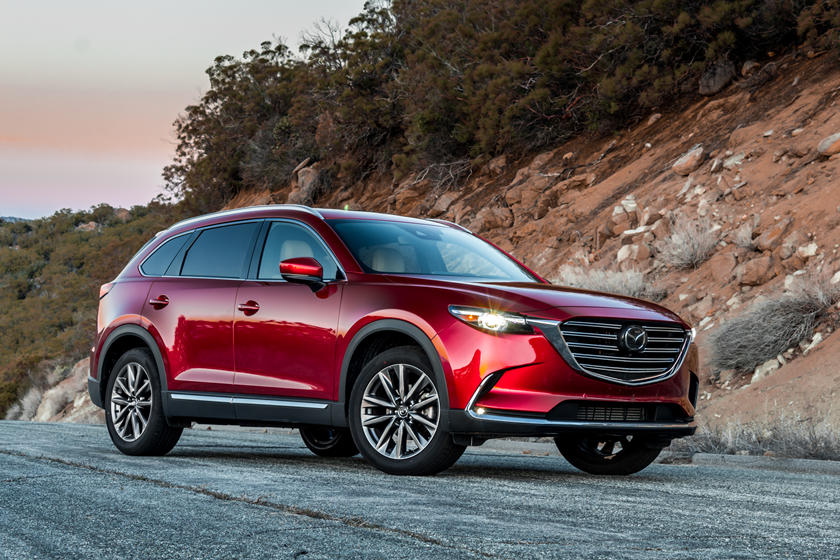 LED lighting for the main headlights and taillights is indeed quite sharp, and every line on the CX-9 adds to the uniqueness of Mazda. Below the CX-9's Signature AWD trim, there are some slight differences, such as halogen daytime running lights. Moreover, less chrome exists in this car. 
Mazda CX-9 2019 Philippines: Interior
When buying a new 7-seat car like the Mazda CX-9, customers can rest assured because Mazda always applies high-quality materials and polished a shiny surface. You get plenty of soft-touch plastics and aluminum trim pieces. Besides, the manufacturer complements all the seats and the steering wheel with leather.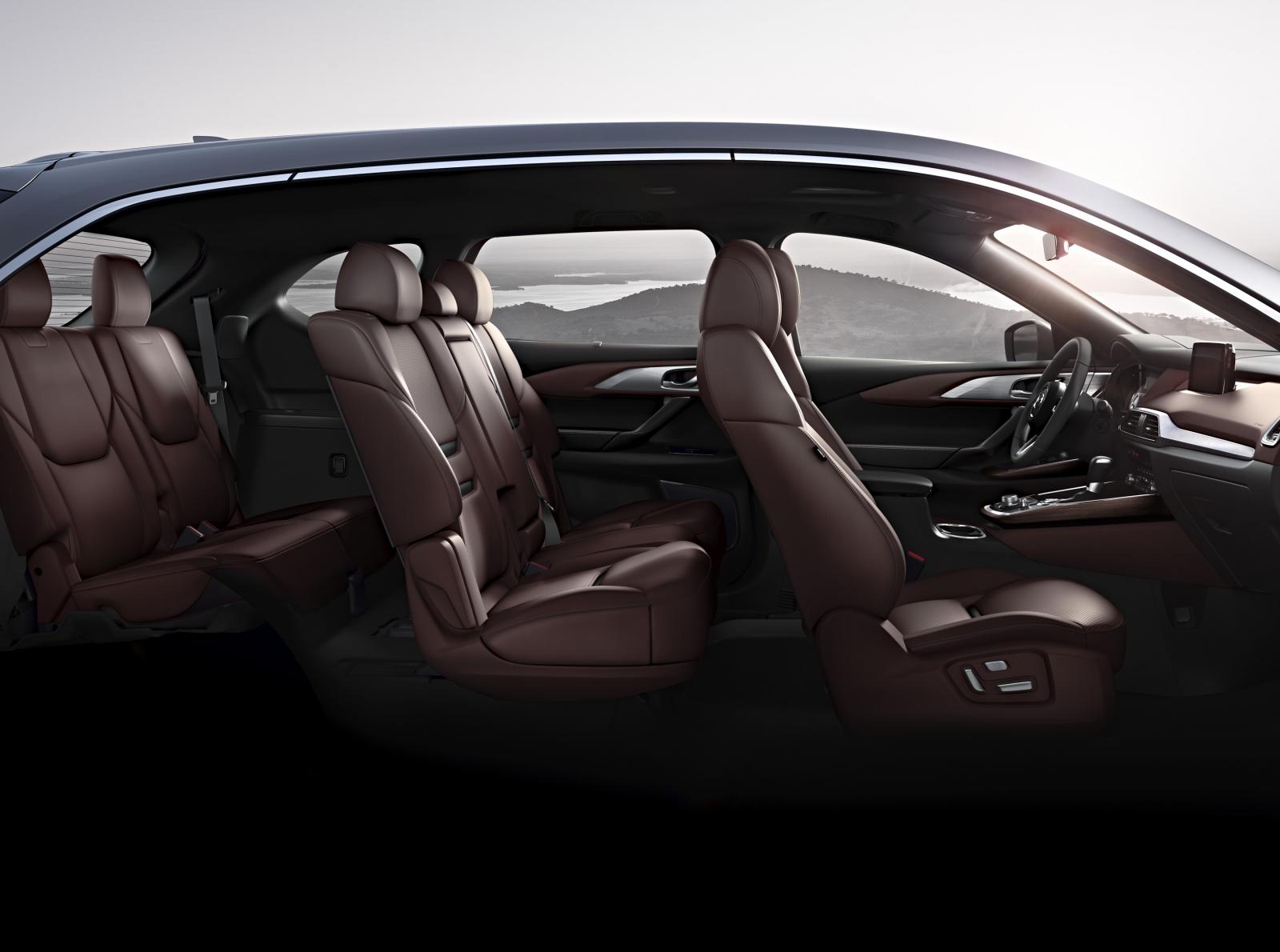 Its interior won't look out of place in a car at twice the price, and Mazda offers one of the most stylish midsize crossovers. The only difference from the more expensive version is that we lack Nappa leather with some rosewood accessories and skylights.
Ergonomics is also practical; using the CX-9 tilt and telescope steering wheel and six-way power-adjustable seat can find a comfortable driving position. The control layout is reasonable, and the driver feels within reach. Passengers in the front row also benefit from four-way electrically adjustable seats.
Mazda CX-9 2019 Philippines: Technology
The dashboard center is a decent eight-inch infotainment screen that uses Mazda's touch and rotating interface. We are loyal supporters of ease of use and shortcut buttons, almost imitating some European manufacturers' designs. Also, you can pay extra for Android Auto and Apple CarPlay to add more features to the already good system.
The head unit is connected to a pretty good six-speaker setup, but you get a greater 12-speaker Bose system to move up to the Signature trim. The air conditioner is a dual-zone automatic air conditioner. You will get automatic LED headlights, rain sensor wipers, one-click opening and closing of all windows and rearview cameras, and front and rear parking sensors. Cruise control is also standard, and you can enjoy keyless entry via the start button. In the middle of a simple and effective dashboard, you will also get a convenient information display.
Don't miss out on the adaptive LED headlights, a head-up display, ventilated front seats, and auto-dimming rearview mirrors, as they can improve to higher specifications. However, this is no big deal because the standard package is still impressive and provides a comfortable and comprehensive driving experience. Are there any quirks? Not so, because the basic knowledge of CX-9 is excellent.
Mazda CX-9 2019 Philippines: Engine
The large crossover SUV equips with a new power unit, the 2.5-liter Skyactiv turbocharged engine, which can produce 228hp of torque and 420Nm of torque to match the updated style of the CX- 9. The electric motor is paired with a 6-speed automatic transmission. It can be used with front-wheel drive (Sport Touring) or all-wheel drive (Signature series).
The gearbox is also very smooth, and a conventional automatic gearbox is a go-to choice. Since the powerband is relatively low in the speed range, the CX-9 can surprisingly quickly run a vehicle of this size. The steering feel is also very light to improve the driving experience. Of course, the eccentricity is fuzzy, but the wheels feel tighter at high speeds.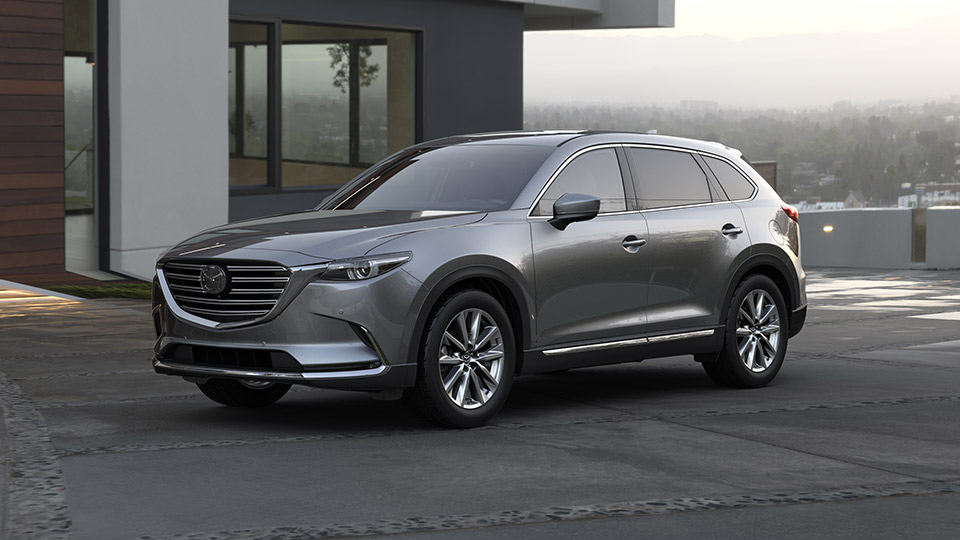 The suspension helps this car easy to swallow potholes and bumps, and even if, over the rumbling strips, the cab remains quiet and vibration-free. In the field of midsize crossovers, CX-9 shines in terms of ride quality and passenger comfort, so it is difficult to make mistakes. Despite weighing 1,844 kg, the 2019 CX-9 still has a certain degree of lightness and agility. We find that even without the all-wheel-drive system of Signature plaque, it can always remain stable.
Mazda CX-9 2019 Philippines: Safety Features
The CX-9 also passes a standard kit of six airbags, ABS with electronic braking force distribution, stability control, ISOFIX bracket for child car seats, front and rear parking sensors, hill start assist system, anti-theft device, and anti-theft device covers.
By upgrade to a higher variant, you will have sophisticated, active safety assistance in the form of automatic high beams: lane-keeping assist, blind-spot detection, and an impressive 360-degree camera to help reverse and maneuver in narrow spaces.
>>> Also check out:
Mazda CX-9 2019 Price in the Philippines
According to the latest Mazda Philippines price list, the price tag of the new Mazda 2019 CX-9 starts from P2,950,000 for the AWD Signature series and P2,380,000 for FWD Sports Touring.
Mazda CX-9 2019 Price in the Philippines
Mazda CX-9 2019 Philippines Pros and Cons
Pros
Outstanding acceleration
A ton of driver assistance features
Cons
A bit disappointed when going through rough roads
Ineffective automatic emergency braking.
Final words
As detailed above about all the Mazda CX9 2019 as well as its advantages and disadvantages, we can see that this is a Japanese crossover with affordable price that has a ton of new features.
Have you made up your mind yet? If yes, good luck with your decision. If you want to read more car reviews and information, don't hesitate to visit Philcarreview.com!